The continued rise in the global popularity of SUVs has significantly shifted the landscape within the global automotive industry in the last few years.
This is particularly true in Australia, where the growth of SUVs in 2021 has increased from 24% of all car sales to a whopping 50% of all brand-new vehicle sales!
The SUV growth craze has invaded not only mainstream models, but also entered the luxury market and even brands of popular sports cars too. With increasing numbers of affluent and influential people wanting in on these vehicles.
At the top of the SUV range, is the Rolls Royce Cullinan. However, several other luxury brands are also tapping into this market now.
This includes the likes of Porsche, Aston Martin, Lamborghini and Bentley. All of which has brought out a model to please the SUV crowds. Thus highlighting the diversity and capacity of the current market.
SUV: What exactly is it?
The term SUV is a shortened form of the phrase 'Sports Utility Vehicle'. It generally refers to a high-riding style of the wagon, that can include anything from a Toyota Landcruiser to the popular Mazda CX-3.
The definition in itself is a blanket term. Some models, such as CX-3 are classed as a vehicle you would tend to ride on a soft road. By contrast, The Landcruiser tends to be viewed as the real deal 'four-wheel drive' or 'off-road' vehicle because of its off-road capabilities.
Increasing Popularity
It's hard to pinpoint just why exactly these models are incredibly popular. However, some experts believe that buyers enjoy its elevated seating position in comparison to other vehicles.
Additionally, the stronger safety features it is perceived to have, along with the greater diversity and availability of models over traditional passenger sedans, are also big attractions.
How much does an SUV cost on average?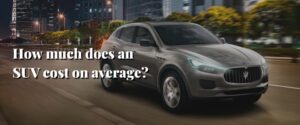 There is a veritable smorgasbord of SUV model variants in Australia, so most purchasing decisions come down to the buyer's price range and individual preferences.
Currently in Australia, the cheapest model of Sports Utility Vehicle available is the Suzuki Ignis. This is priced at around $18,740.
At the bottom of the spectrum, the magnificent Rolls Royce Cullinan Black Badge will set you back a cool $754,000.
The six highest-priced SUVs
Over the years, SUVs have come in all shapes and sizes. For some people, they have become a status symbol as well.
Here are the six most expensive SUVs ever made (at the time of writing).
Rolls Royce Cullinan Black Badge – priced at $ 754,000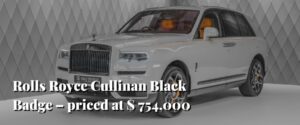 The Rolls Royce Cullinan is a vehicle that is often labelled as 'high-sided' to differentiate it from the traditional models, coupes, convertibles and limousines.
The price tag is luxuriously expensive, with a starting price of $754,000. And that is just for its standard features. Any individual personalisation or optional extras further adds to the drive-away price of this stylish and individually crafted automotive.
The Cullinan can be described as grandeur on wheels and the cabin is finished with the most exquisite materials, like quilted leather and authentic metallic trim.
The Black Badge range represents Rolls Royce's push to attract a younger and sportier customer base to its car models.
The Black Badge's powerful engine consists of an impressive 6.75-litre V12, twin-turbo petrol unit which pumps out a huge 441kW/900Nm.
A sleek carbon fibre-made trim, which runs all along the cabin gives it an edgier look, while the black leather interior with bold outline accents its overall ambience.
Bentley Bentayga Speed – priced at $ 491,000
Regarded as the first true luxury SUV, the Bentayga was launched in 2016, in an attempt to improve upon the benchmark standard that Range Rover had set its rivals at that time.
Each model within this range contains the same opulent, well-equipped luxury that is synonymous with Bentley's.
The price of the base model Bentayga begins from around $348,300, with the top-of-the-range Speed coming in at $491,000.
The Speed offers buyers an indulgent driving experience with a plush cabin combined with high performance. It also has a 6.0-litre W12, twin-turbo engine that outstrips the Cullinan to be a phenomenal 467kW/900Nm.
Lamborghini Urus – priced at $ 391,968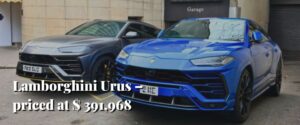 If you are after a luxury SUV with pure performance, then you will want to check out this Italian model.
The Urus emphasises the 'Sports' element of its SUV while focusing on driving performance and dynamics over space and functionality.
Whilst the team at Lamborghini are well known for their head-turning models of Diablo, Countach and Aventador, they actually have roots with off-road vehicles.
Ferruccio Lamborghini started Automobili Lamborghini from the profits he garnered from his prosperous tractor business. During the 1980s they actually manufactured the LM002, which was a Hummer-like automobile, designed to be a potential military vehicle, that could be used as an off-roader.
The Urus possesses a terrific 4.0-litre V8 twin-turbo engine, which helps it pull out an exceptional 850Nm and 478kW. This gives it enough juice to do 0-100km/h in only 3.6 seconds!
Thanks to an abundance of technological innovations, this big SUV handles remarkably well. Not only does it have an all-wheel style of drive that comes with active torque vectoring, it also boasts adaptive air suspension, rear-wheel steering, ceramic brakes that are standard carbon and active roll stabilisation.
Notwithstanding the price and its third-place rank on the list, the Urus comes second only to the Huracan EVO model – costing $384,187 – for being the most affordable Lamborghini you can buy in Australia.
Mercedes Maybach GLS600 – priced at $ 378,297
The Maybach GLS 600 represents the peak of the range in both S-Class and GLS SUV.
For many years, the brand stuck rigidly to its principles of solely producing deluxe limousines for wealthy car enthusiasts. However, it also eventually succumbed to the SUV obsession.
After one attempt to re-launch as a rival that could match Bentley failed between 2002 to 2012, Mercedes focused on re-generating the sub-brands of EQ and AMG in 2015.
Today, prices for Maybach GLS 600 start at $100K more expensive than the next model in the range – the fabulous AMG GLS 63.
it's power-driven by a V8 twin-turbo, 4.0-litre engine which releases a good 410kW/730Nm. It is also backed by an excellent 48-volt hybrid system giving it a further 16kW/250Nm increase as and when it is required, as well as reducing overall fuel costs.
Aston Martin DBX – priced at $ 356,512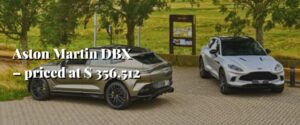 An SUV would seem an unlikely fit for this sports car brand, however, the DBX now accounts for over 50% of all models of Aston Martins purchased.
In 2021 without this growth in sales, the brand could well have folded. This is why luxury and sports brand car companies make SUVs not just to survive, but also to facilitate future growth.
The DBX makes it possible for the brand to remain a viable business and also have the capital to fund a future generation of models of sports cars.
This distinctive-looking SUV is powered by a 4.0-litre V8, twin-turbo engine that is AMG-sourced. It makes it out at 405kW/700Nm.
Whilst it is not in the same speed category as other models like the Urus, the vehicle can still hit 0-100km/h within a magnificent 4.5 seconds.
Porsche Cayenne Turbo GT Coupe – priced at $ 336,100
The Porsche brand is believed to be the earliest luxury car manufacturer to make the giant step into the SUV world. Launching the initial version of its Cayenne back in 2003.
While the German manufacturer faced plenty of criticism from motoring enthusiasts when the Cayenne was introduced, it swiftly turned that into sales success which has enabled Porsche to prosper. Subsequently, they have added the Cayman/Boxster, Macan, Panamera and also the most current, Taycan to their portfolio.
Without the success of the Cayenne, the other models would probably not have been introduced to the market. So, its tremendous popularity has paved the way for the Urus, DBX and Bentayga.
To keep raising the bar of standard and performance, Porsche has brought out the new Turbo GT coupe model in its Cayenne range this year.
Like the Cayenne Turbo, it has a V8 twin-turbo 4.0-litre engine. However, because of its 'GT' badge, you also get an extra 67kW/80Nm in performance. This, in turn, elevates it to 471kW/850Nm.
With this added power, the Cayenne Turbot GT Coupe sprints from 0-100km/h in a mindblowing 3.3 seconds, eclipsing both the DBX and Urus as 'best in class' for speed.
The suspension and chassis have also undergone several changes to improve handling. While the 22-inch alloy wheels now come with high-quality Pirelli P Zero Corso tyres.
Other standard features also include 'Porsche Dynamic Chassis Control' which has carbon ceramic brakes and active roll stabilisation.