Steve Hamilton is a successful YouTuber renowned for owning an exceptional collection of super and hypercars.
As the founder of SD Wheel, some would say he is living the American Dream, having grown up living off welfare and resorting to jobs like caddying and flipping burgers as a teenager to make money.
Starting it over 20 years ago, at the tender age of 19, his company is now the leading custom wheel brand in the world. So you could say he has turned his passion into a lucrative career.
Over the years this success has allowed him to indulge his passion on a more personal level by collating an assemblage of exclusive vehicles. Some experts have estimated his car worth to be between $30 million and $100 million.
Here is an overview of some of the most iconic vehicles he owns.
McLaren Senna
The McLaren Senna is a high-performance supercar named after the legendary Formula 1 driver Ayrton Senna.
Designed with a focus on track performance, it combines stunning aerodynamics, advanced engineering, and powerful performance.
The Senna features a lightweight carbon fibre construction and aggressive styling that optimises downforce and enhances its visual appeal. Powered by a twin-turbocharged 4.0-litre V8 engine, it produces an impressive 789 horsepower and 590 lb-ft of torque.
With its low weight and advanced technologies like active aerodynamics and a sophisticated suspension system, the Senna also delivers exceptional handling and cornering capabilities. The interior is driver-focused, with a minimalist design and racing-inspired features.
As it was limited to a production run of just 500 units, the McLaren Senna is now a rare and exclusive supercar that pushes the boundaries of performance and showcases McLaren's dedication to creating ultimate driving machines.
Bugatti Veyron 16.4
The Bugatti Veyron 16.4 is an iconic hypercar that made waves in the automotive world when it was introduced in 2005. Known for its extraordinary performance and engineering prowess, it redefined what was possible in a road car.
It boasts a monstrous W16 8.0-litre engine with four turbochargers, delivering a mind-boggling 1,001 horsepower. With a top speed of over 250 mph and an acceleration time from 0 to 60 mph in less than three seconds, it is one of the fastest production cars ever made.
The Veyron 16.4's sleek and aerodynamic design, featuring a signature horseshoe-shaped grille and distinctive curves, exudes elegance and power. Its luxurious interior offers comfort and refinement with high-quality materials and advanced technologies.
Overall, only 450 units were produced, making the Bugatti Veyron 16.4 a true automotive masterpiece that represents the pinnacle of performance, craftsmanship, and exclusivity.
Ferrari LaFerrari
The Ferrari LaFerrari is an impressive hypercar that was introduced in 2013.
Showcasing the brand's commitment to innovation, performance, and craftsmanship, the vehicle's striking and aggressive design immediately captures the attention of car enthusiasts.
Boasting aerodynamic elements that optimise downforce and enhance performance, it combines a powerful 6.3-litre V12 engine with an electric motor to deliver a staggering combined output of 949 horsepower.
It also has a hybrid powertrain and advanced aerodynamics that enable it to reach a top speed of over 217 mph and zip from 0 to 60 mph in less than three seconds.
Additionally, the interior is a blend of luxury and race-inspired features, with premium materials and cutting-edge technology that makes driving in it a pleasure.
Overall, the LaFerrari is a highly exclusive and coveted supercar that represents Ferrari's mastery of automotive engineering.
Porsche 918 Spyder
The Porsche 918 Spyder is a remarkable hybrid hypercar that combines cutting-edge technology with exhilarating performance.
Launched just over ten years ago, the vehicle is known for a slick and sexy design that is both functional and visually striking. Its interior features a driver-focused cockpit with high-quality materials and advanced technologies, while the low-slung profile, aggressive lines, and active aerodynamic elements contribute to its performance and efficiency.
At the heart of the 918 Spyder is a hybrid powertrain that consists of a V8 4.6-litre engine that is combined with two electric motors and delivers a total power output of 887 horsepower. With such incredible power, it takes the vehicle just 2.5 seconds to rattle up from 0 to 60 mph. It also enables it to reach a top speed of 214 mph.
Furthermore, the 918 Spyder offers multiple driving modes, including an all-electric mode for emission-free driving, a hybrid mode for optimal efficiency, and a race mode for maximum performance.
All things considered, with its advanced hybrid system and exceptional handling capabilities, the Porsche 918 Spyder delivers an extraordinary driving experience that seamlessly blends power, precision, and sustainability.
Pagani Huayra Roadster
Brought to market in 2017, the Pagani Huayra Roadster is a breathtaking open-top hypercar that combines exquisite design, meticulous craftsmanship, and extraordinary performance.
Featuring a striking appearance and meticulous attention to detail, it is the convertible variant of the iconic Huayra coupe. Its design is a perfect fusion of form and function, with sleek lines, gull-wing doors, and aggressive aerodynamic features not only enhance its visual appeal but also optimise its performance and stability.
Its open-top design also allows drivers to fully immerse themselves in a thrilling driving experience, which includes the exhilarating sound of a V12 engine 6.0-litre twin-turbocharged engine developed by AMG.
Producing an astonishing 754 horsepower, its power is transferred to the back wheels via a sequential seven-speed gearbox, enabling the vehicle to accelerate from 0 to 60 mph in under 3 seconds and reach a top speed of over 200 mph.
Inside the cabin, the Huayra Roadster offers a luxurious and driver-centric environment with high-quality materials, bespoke craftsmanship, and cutting-edge technologies. Every detail, from the hand-stitched leather upholstery to the intricately designed controls, reflects the passion and dedication of Pagani's artisans.
As only 100 units were made of this brand of car, Steve is very lucky to own a Pagani Huayra Roadster, given that it is a highly exclusive and much coveted vehicle.
McLaren P1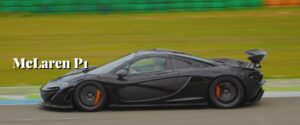 The McLaren P1 is a remarkable hybrid hypercar that pushes the boundaries of automotive engineering and performance. Unveiled in 2012, the P1 represents the ultimate expression of the company's automotive nous and showcases its commitment to pushing the limits of what is possible in a road-legal vehicle.
Central to the McLaren P1 is its hybrid powertrain which consists of a 3.8-litre twin-turbocharged V8 engine paired with an electric motor. Together, they produce an incredible 903 horsepower which provides the car with blistering acceleration capabilities ( 0 to 60 mph in under 3 seconds) and a maximum speed of 217 mph.
The P1's design combines aerodynamic efficiency with futuristic styling. Its sculpted bodywork, active aerodynamic elements, and unique dihedral doors not only look great but also enhance its performance. Inside, the driver-focused cockpit offers high-quality materials and advanced technologies, including carbon fibre trim, racing-inspired seats, and a minimalist layout, creating an immersive and engaging driving experience.
Bugatti Chiron
The Bugatti Chiron is a magnificent masterpiece that combines breathtaking performance, luxurious craftsmanship, and exquisite design. Launched as the successor to the iconic Veyron, the Chiron takes automotive engineering to new heights.
Notable for an exterior design that features the perfect blend of elegance and aerodynamic efficiency, its sleek and muscular body features iconic Bugatti design elements, including the horseshoe grille, C-shaped side lines, and prominent rear diffuser. The interior is also a marvel of luxury and craftsmanship, with premium materials, comfortable seating, and advanced infotainment systems.
Under the hood is an 8.0-litre quad-turbocharged W16 engine, which delivers an astonishing 1,500 horsepower, making it one of the most powerful production cars in the world.
With a top speed limited to 261 mph (420 km/h), the Chiron can race to 60 mph from a standing position in just under 2.5 seconds, providing an adrenaline-pumping driving experience.
Lamborghini Countach 5000 S
The Lamborghini Countach 5000 S is an iconic supercar that defined the automotive landscape of the 1980s. With its striking angular design, scissor doors, and powerful performance, the vehicle captivated car enthusiasts from the moment it first came out and became a symbol of automotive excellence.
The Countach 5000 S features a low-slung body with aggressive lines, sharp edges, and dramatic styling cues. Its wide rear wings, rear spoiler, and distinctive air intakes contribute to its aerodynamic performance and commanding presence on the road.
Inside the cockpit, the Countach 5000 S offers a driver-focused environment with a minimalist design. High-quality materials, supportive seats, and a classic instrument cluster complete the interior. Under its rear engine cover is a V12 5.0-litre engine that propels it from 0 to 60 mph in just 5.4 seconds and reaches a ceiling speed of around 183 mph. Its mid-engine layout also ensures excellent balance and handling which delivers a thrilling driving experience.
Overall, as one of the most revered and coveted Lamborghini models, the Countach 5000 S represents a timeless icon in the realm of supercars, embodying the spirit of Italian automotive passion and performance. If you asked Steve which of his cars is his favourite, it would surprise us if he chose this one.
McLaren 765LT Spider
The McLaren 765LT Spider is a stunning convertible supercar that combines breathtaking performance with open-air exhilaration. Based on the acclaimed 765LT coupe, this limited-edition model takes the driving experience to new heights.
It is most notable for its retractable hardtop roof that allows you to experience the thrill of the open road while preserving the car's sleek and aerodynamic profile. At the same time, its cockpit also impresses with its thoughtful design that has been conceived with maximum driver engagement in mind, featuring premium materials, comfortable seats, and advanced technology.
Under its hood, the Spider 765LT accommodates a twin-turbocharged V8 engine 4.0-litre that is capable of producing 755 horsepower. With lightning-fast acceleration, it can sprint from 0 to 60 mph in a very nifty 2.7 seconds. Like with most of the other super and hyper cars in his collection, the lightweight carbon fibre construction and advanced aerodynamics of this model contribute to its agility and speed.
With its track-focused DNA and thrilling performance, the McLaren 765LT Spider delivers an unforgettable driving experience. This enables you to tear up the track with it or, equally, just cruise along scenic roads at a leisurely pace.