Simon Kidston is a well-known British classic car dealer, collector, and auctioneer. He has been involved in the classic car world for over three decades and has built a reputation as one of the leading experts in the industry.
Kidston was born in Switzerland in 1965 but spent much of his childhood in the UK. His father was a vintage Bentley enthusiast, and it was through his dad's passion for cars that Kidston developed an interest in classic vehicles. After studying history and modern languages at Oxford University, Kidston began working as a trainee at a London-based classic car dealership.
In 1991, Kidston founded his own classic car dealership, Simon Kidston SA, in Geneva. The company quickly gained a reputation for selling some of the world's finest classic cars, and Kidston became known for his extensive knowledge and expertise in the industry.
Over the years, Kidston has been involved in some of the most significant classic car sales and auctions in history, including the record-breaking sale of a 1962 Ferrari 250 GTO for $38 million in 2014. He has also served as a judge at many prestigious classic car events, including the Pebble Beach Concours d'Elegance and the Concorso d'Eleganza Villa d'Este.
In addition to his work as a classic car dealer and auctioneer, Kidston is also an avid classic car collector. He has owned and restored numerous makes and models over the years, including a 1956 Maserati A6G/54 Berlinetta, a 1953 Ferrari 166 MM Barchetta, and a 1960 Aston Martin DB4.
Kidston's love of classic cars is evident in all aspects of his life, and he is widely regarded as one of the most knowledgeable and passionate people in the classic car world. Here is an overview of some of the current vehicles he owns.

Lamborghini Countach LP400
The Lamborghini Countach LP400 is a mid-engine sports car produced by Italian automaker Lamborghini from 1974 to 1978. It was designed by Marcello Gandini of the Bertone design studio, and it was the successor to the Lamborghini Miura. The Countach was named after a local Italian word which loosely translates to astonishment and excitement.
The Countach LP400 featured a sleek and angular wedge-shaped design with scissor doors, which opened upwards rather than outwards. The car was powered by a V12 4.0-litre engine that produced 375 horsepower and 266 lb-ft of torque and was mated to a 5-speed manual transmission. This allowed the Countach LP400 to reach a top speed of 186 mph and go from 0 mph to 60 mph in just 5.4 seconds.
The LP400 was the first Countach model to feature a redesigned chassis, which improved its handling and stability. It also featured a redesigned interior with more comfortable seats and better ergonomics for the driver. The LP400 also had much-enhanced aerodynamics than its predecessor, which helped to reduce drag and improve performance.
The Countach LP400 was produced in limited numbers, with only 150 units made between 1974 and
1978. Its iconic design and high-performance capabilities made it a popular choice among sports car enthusiasts and collectors alike. Subsequently, the Countach went on to become one of the most iconic sports cars of the 20th century, and it remains highly sought after by collectors today.

911 Carrera RS 2.7
The 911 Carrera RS 2.7 is a classic sports car that was produced by Porsche in the early 1970s. It was designed as a homologation model to compete in the Group 4 racing series, which required manufacturers to produce a minimum number of road-legal cars to qualify for the competition. As a result, only 1,580 examples of the 911 Carrera RS 2.7 were built between 1972 and 1973, making it a much sought-after vehicle today on the collectable market.
One of the most distinctive features of the 911 Carrera RS 2.7 was its 'ducktail' rear spoiler, which was designed to heighten aerodynamics and increase downforce at high speeds. The car also featured wider wheels and tires, stiffer suspension, and larger brakes compared to the standard 911 models of the time.
Under its hood, the 911 Carrera RS 2.7 runs off a 2.7-litre flat-six engine that produces 210 horsepower and 188 lb-ft of torque. This power was sent to the rear wheels via a five-speed manual transmission, which allowed the car to accelerate from 0 to 60 mph in only 5.5 seconds and reach a maximum speed of 150 mph.
Inside, the vehicle featured a stripped-down interior with lightweight bucket seats, a thin-rimmed steering wheel, and a minimalist dashboard that had no radio or air conditioning. This focus on weight reduction helped it to significantly improve the car's performance and handling.
Overall, the Porsche 911 Carrera RS 2.7 was championed as one of the most iconic and influential sports cars of all time. Its rarity, performance capabilities, and distinctive styling have all contributed to its legendary status.

Bugatti EB110 GT
The Bugatti EB110 GT is a high-performance sports car that was produced by Bugatti Automobili S.p.A. from 1991 to 1995. It was designed and developed by a team led by Italian engineer and automotive designer Paolo Stanzani.
The EB110 GT was named after the company's founder, Ettore Bugatti, and the number '110' represents his 110th birthday. The 'GT' in the name stands for 'Gran Turismo'.
To run, the car relied on a quad-turbocharged V12 3.5-litre engine that produced 550 horsepower and 450 lb-ft of torque. The engine was mated to a six-speed manual transmission and enabled the car to hit a max speed of 213 miles an hour. It was also capable of going from a stationary position to 60 miles per hour in a very nifty 3.2 seconds.
The car's body was made of lightweight carbon fibre and Kevlar materials, which helped to reduce its overall weight to just 3,400 pounds. It also had a four-wheel independent suspension system with double wishbones and coil springs, as well as a limited-slip differential and four-wheel disc brakes.
Inside, the EB110 GT boasted a luxurious cabin with high-quality leather upholstery, power-adjustable seats, and a premium sound system. It also has a digital instrument cluster that displays various performance metrics and other important information.
All things considered, the Bugatti EB110 GT was a highly advanced and impressive supercar for its time, with its cutting-edge technology, exceptional performance, and elegant design.

Lamborghini Miura SV
The Lamborghini Miura SV is a high-performance sports car that was made by Lamborghini from 1971 to 1973. It was the last iteration of the Miura series and was widely regarded as one of the most iconic supercars of all time.
The Miura SV featured a distinctive and timeless design, with sharp lines and a low-slung, aerodynamic profile. Its body was made of aluminium, and it had a lightweight chassis and a luxurious interior, with leather seats and a wood-rimmed steering wheel.
Powered by a 4.0-litre V12 engine, it had a top speed of over 180 mph and was mounted transversely in the rear of the car, which helped to improve its weight distribution and handling.
Overall, the Lamborghini Miura SV is a legendary supercar representing the pinnacle of automotive design and performance from its era. As only 150 were made, its rarity and iconic design have made it one of the most valuable classic cars in the world, with some models selling for millions of dollars at auction.

Bugatti Type 57
The Bugatti Type 57 is a classic car produced by the French automaker Bugatti between 1934 and 1940. It was designed by Jean Bugatti, son of company founder Ettore Bugatti, and was intended to be a grand touring car with high levels of luxury and performance.
The Type 57 was powered by a 3.3-litre inline-eight engine that was coupled to a four-speed manual transmission and featured hydraulic brakes, which were an advanced technology at the time. It was also notable for its innovative chassis design, which used a cruciform shape that provided both strength and a reduction in weight.
One of the most famous variants of the Type 57 was the Type 57SC Atlantic, which was produced in limited numbers between 1936 and 1938. The Atlantic was designed by Jean Bugatti and featured a sleek, aerodynamic body that was hand-formed from aluminium. Only four Atlantics were ever built, and they are considered to be among the most expensive and in-demand cars in the world.
Other notable variants of the Type 57 include the Type 57S, which featured a supercharged engine and was designed for racing, and the Type 57C, which possessed a supercharged engine and was designed for road use. The Type 57 was also the basis for the Type 57SC Corsica, which won the 1938 24 Hours of Le Mans.

Alfa Romeo Giulia TZ2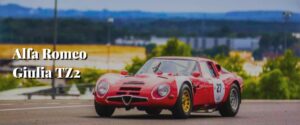 The Alfa Romeo Giulia TZ2 is a rare sports car produced by the Italian automaker in the 1960s.
Designed as a racing car, it had a lightweight chassis and aerodynamic bodywork, making it highly agile and manoeuvrable. It succeeded the Alfa Romeo TZ and was based on the same platform as the Giulia Sprint GT but with significant modifications for racing, including a tubular spaceframe chassis, independent suspension, and a 1570cc engine producing up to 170 horsepower.
The car's aerodynamic bodywork, designed by Zagato, was a distinctive feature. Made of aluminium, the body had a low, sleek profile with a long hood and short tail, a prominent front grille, and distinctive headlights.
Introduced in 1964, The Alfa Romeo Giulia TZ2 raced in various competitions, enjoying a good track record of success.

Bugatti Veyron 16.4
The Bugatti Veyron 16.4, a mid-engine supercar, was manufactured by the French automaker Bugatti from 2005 to 2015. It's named after Pierre Veyron, a racing driver who won the 24 hours of Le Mans in 1939 while driving for the original Bugatti company.
The Veyron was intended to be the world's fastest production car, and it was the realisation of Volkswagen Group Chairman Ferdinand Piëch's dream to create the ultimate supercar. It was revealed at the 2005 Tokyo Motor Show, and production began the same year.
Powered by an enormous W16 8.0-litre engine with four turbochargers, it produced an astounding 1,001 horsepower and 922 lb-ft of torque. The engine was also paired with a 7-speed dual-clutch transmission and all-wheel drive system, enabling it to achieve a top speed of 253 mph and go from 0 – 60 mph in a blink-and-you'll-miss-it 2.4 seconds.
Notably, the vehicle's advanced aerodynamic design helped it to stay on the ground at high speeds, and it also had a unique spoiler that could be raised and lowered.