The Mercedes brand has earned a reputation for manufacturing high-performance luxury cars. One of their newest offerings is the 2023 Mercedes AMC C63. Let's take a look at what this powerful Mercedes model has to offer the Australian driver.
Engine, Body, Design 
Older versions of the C63 luxury sedan used a 4.0 Liter V-8 engine with up to 503 horsepower. This model line has been on pause since 2020, and many are eager for the next in the series.
The Mercedes AMG C63 has multiple body options, including sedan, station wagon coupe, and cabriolet. Each style has a powerful engine that sets it apart from others. These vehicles feature nano slides technology that helps the cars reduce fuel consumption and overall emissions. With the sedan, you can get up to 18 mpg and 17mpg with the coupe in the city. Highway driving with the sedan gets 27 mph and 26mpg with the coupe. 
Mercedes has designed this engine to be high performing and maneuverable. The last entrant in the mode line, the 2021 AMG C63, had an acceleration of zero to 60 mph in 3.7 seconds. The cars' full speeds, like most vehicles, are capped by their manufacturer. In this case, the C series has a max speed of 155 miles per hour, with the S series reaching 180mph.
Mercedes gave this sedan series a sportier look than their competitors, with an A-Wing design, sculpted side sills, and a double crossbar grill. Other features include a panoramic sunroof, flared wheel arches, and LED headlights.
All these exterior aspects give the C63 the luxurious feel consumers expect from owning and driving a Mercedes. The upgraded suspension system will have you feeling like you are gliding along the road, and the fine-tuned steering system affords you unprecedented control over the vehicle while it is in motion. Like any Mercedes, you can customize the steering and gearbox to respond based on your needs. 
Mercedes vehicles prioritize power, comfort, and luxury, and the 2023 AMG C63 is no exception. Read on to learn more about the vehicle's impressive interior.
Interior Design
Mercedes vehicles are known for their comfort and give you plenty of engine power with the feel of a relaxed ride. These models have a 10-stage traction control system that allows the driver to adjust the wheel slip before it engages traction control. This system can increase handling and comfort in unsafe road conditions at the touch of a button.
The interior of the AMG C63, like all Mercedes, is designed with an eye for comfort without compromising functionality. The design, detailing, finishes, and ambiance give it a luxury feel like no other. The upholstery features Nappa leather and microsuede, and the doors feature illumination giving it an even more high-end feel. 
The seats are power adjustable and feature automatic climate control. Each vehicle comes equipped with an HD radio, multiple USB ports, Bluetooth, and a 'hey Mercedes feature which allows the car to do a myriad of functions for you, from turning on your heating system, to playing music, to operating your navigation system.
You can customize them further with a ventilation system that circulates air through slits made in the seat and backrest, offering immediate relief no matter the weather outside.
The C63 closely follows the classic C-Class design. It showcases high-quality stitching, detailing, and finish. Its main goal is to give premium appeal with metal-finished air vents, and a large tablet screen. 
In terms of storage capacity, the regular model C63 features a 380-liter trunk. If you need more room, the pricier model S has a larger space at 460 liters. The seats feature a classic 40/20/40 split increasing the trunk area based on your needs. 
Servicing Your AMG C63 
When it comes to servicing, Mercedes offers a variety of flexible servicing plans. They have warranties you can purchase to help cover servicing costs or prepaid maintenance packages. The maintenance packages make it easier when you receive your A service or B service. When it comes to cost, the A service is usually cheaper than the B service, and they alternate depending on the year. 
A service is a type of service required at and around 10,000 miles. It is the first required service and usually happens during the first year of owning a new car. After the first A service, the next one will be every 2 years or 20,000 miles. 
A services will then continue as so at 10,000, 30,000,50,000, 50,000, 90,000 miles and so on. This will all depend on the type of wear and tear your vehicle is experiencing. An A service usually covers oil replacement, oil filter replacement, fluid level checks, tire checks and corrections, brake inspections, and resetting the maintenance counter. 
B Service occurs at 20,000 miles or 1 year after the previous service. It then happens every 20,000 miles or 2 years, alternating with the A service. This means B service is usually required at 20,000, 40,000, 60,000, 80,000, and 100,000 miles. 
With the B service, they will look at an oil replacement, filter replacements, brake inspection, brake fluid change, tire correction, fluid level check, fluid correction, and reset the maintenance counter. 
Safety Features 
Just like comfort, safety is an important factor to the Mercedes brand. They have built a reputation for providing high-quality safety standards for their luxury vehicles. No matter which trim you choose, they come with multiple airbags, stability control, pedestrian protection, and auto emergency braking. 
These are great safety features to have on the road and can give you peace of mind while driving. If you want even more features you can add-on to your vehicle with the head-up display or the carbon-ceramic brakes package. Either will be an additional cost on top of the MSRP of the vehicle. 
The vehicles are also equipt with a security system. The vehicle can anticipate or detect an unwanted break-in. It has an ignition disable device that prevents the vehicle from starting up if the original manufacturer key is not present. 
Multiple features help the Mercedes stand out, including attention assist, active brake assist, active park assist, active distance assist, and active blind spot assist. Attention Assist is a feature of the system that is aimed to keep you awake. It will flash visual and audible warnings if the vehicle senses signs of fatigue or drowsiness from the driver. 
Active Brake Assist uses radars in the front grille that can detect potential collisions based on speed and distance. The system will then provide optimum braking to slow the car down to avoid a crash.
Active park assist is a system that helps detect a parking space using the cars' sensors. You can select the spot you want to park in, and the car will park itself. This is available as part of the Parking assistance package. 
Active distance assist is a feature that helps monitor the distance between the cars in front of you. It uses radars in the front grille and helps maintain speed and distance from the cars in front of you. It can even activate active break assist if it senses an oncoming collision. 
Active blind spot assist is found in a lot of newer model cars. With the help of radar technology, your vehicle can detect if a car enters the blind spot area. It will then warn the driver with a flashing red icon on the side mirror. It can also create an audible warning if you utilize your turn single while another vehicle is in your blind spot area. 
2023 Mercedes AMG C63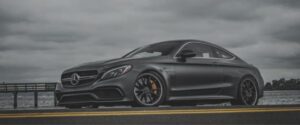 The C63 mode line has taken a two-year hiatus but is finally adding another car to its lineup with this 2023 model. Mercedes has not disclosed any pricing for this model, but there are expected to be three different trim options. The three trim options are expected to be premium, exclusive, and pinnacle. The lowest trim the premium is expected to be priced at around $70,000 MSRP and the other trims will go up in price from there. 
The 2023 version stands out from previous entrants in the model line with its more masculine appearance. It features a new front bumper, larger air ducts, and AMG's signature Panamericana grille treatment. The model comes with 20-inch wheels and a widened front fender. You can't forget AMG's signature trapezoidal-shaped tailpipes as well. 
Unlike previous models, which use the old twin-turbo V-8 engine, the new 2023 model will have a more powerful, turbocharged 2.0-liter four-cylinder engine. Although this engine is half the size of the old one, it will be accompanied by a 201 hp electric motor as well as 400-volt electric turbochargers. This will make up for the lesser engine and increase the turbo lag. This hybrid engine will give out around 500 horsepower. With the hybrid engine, the car will still have great power but be more fuel efficient overall.