The Aston Martin V12 Speedster is a limited-production supercar that represents the pinnacle of the company's engineering and design capabilities.
As a true driver's car that combines performance and style, the V12 Speedster is a stunning, open-top car that draws inspiration from the company's racing heritage.
From its powerful 700 horsepower V12 engine to its agile handling and luxurious interior, the V12 Speedster is a true masterpiece that is sure to leave a lasting impression on anyone who has the opportunity to get behind the wheel.
In this article, we'll take a closer look at the Aston Martin V12 Speedster, exploring everything from its design and performance to its driving experience and unique features.
Launch
The Aston Martin Speedster V12 was first revealed as a concept car in March 2020. The car was developed by Aston Martin's bespoke and highly talented customisation service team, Q by Aston Martin, and was inspired by the brand's impressive legacy of motor racing and aeronautical design.
After a positive reception to the concept car, Aston Martin announced that it would produce a limited run of just 88 V12 Speedsters for customers. Production began in 2021, with the first deliveries of the car made later that year.
The launch of the V12 Speedster was seen as a major event in the automotive world, as the car represented a departure from Aston Martin's more traditional sports car offerings. With its open-top design and striking styling, the V12 Speedster was designed to offer a more visceral driving experience and to appeal to a more daring and adventurous customer base.
Despite the challenges posed by the COVID-19 pandemic, Aston Martin was able to successfully produce and launch the V12 Speedster, with the car receiving positive reviews from automotive journalists and enthusiasts alike. The car's limited production run and exclusive price point also ensured that it remained a highly sought-after and collectible vehicle, with all 88 units selling out soon after the car's launch.
Design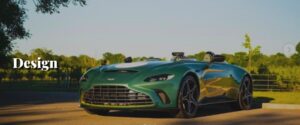 The Aston Martin V12 Speedster is a truly unique car, with a design that is both striking and elegant, and a sleek and aerodynamic shape that exudes power and speed. The car's body is made entirely of carbon fibre, which not only reduces weight but also gives the car a distinctive look.
One of the most distinctive features of the V12 Speedster is its lack of a roof or windshield. Instead, the car has a pair of low-profile wind deflectors that help to direct the airflow around the driver and passenger. This gives the car a minimalist look and puts the focus squarely on the driving experience. The V12 Speedster also features a unique double-bubble design for the rear deck, which is a nod to classic Aston Martin sports cars of the past.
The interior of the V12 Speedster is just as impressive as the exterior. Its cabin is a minimalist and modern design that is both functional and stylish, with high-quality materials throughout.
The seats are made of lightweight carbon fibre and are covered in a combination of leather and alcantara. They are comfortable and supportive, and there's plenty of room for even taller drivers.
The dashboard is dominated by the car's infotainment system which is well-designed, easy to use and has a large touchscreen display and intuitive controls. The centre console features a tactile aluminium switchgear.
Performance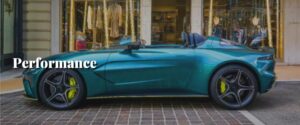 The Aston Martin V12 Speedster is powered by a 5.2-litre twin-turbocharged V12 engine that produces 700 horsepower and 555 lb-ft of torque. This engine is mated to an eight-speed automatic transmission with a limited-slip differential and rear-wheel drive. The V12 Speedster can accelerate from 0 – 60 mph in just 3.4 seconds and has a top speed of 198 mph.
One of the most impressive aspects of the V12 Speedster's performance is its handling. Thanks to the car's lightweight construction, advanced suspension, and responsive steering, the V12 Speedster is a joy to drive on winding roads or on the track. The car's aerodynamic design also helps to keep it stable at high speeds, giving the driver confidence to push the car to its limits.
Features
The Aston Martin V12 Speedster comes with a host of high-end features and advanced technology. Some of its key features include:
Carbon fibre body: The V12 Speedster's body is made entirely of carbon fibre, which not only reduces weight but also enhances the car's performance and handling.
Aerodynamic design: Its aerodynamic design helps to reduce drag and improve stability at high speeds.
Advanced suspension: The car features a double-wishbone suspension system with adaptive damping and anti-roll bars, which provides excellent handling and ride comfort.
Braking system: the vehicle has a high-performance braking system with carbon-ceramic discs and six-piston calipers, which provide excellent stopping power.
Infotainment system: The car's infotainment system includes an 8-inch touchscreen display, a premium sound system, and satellite navigation.
Driving Experience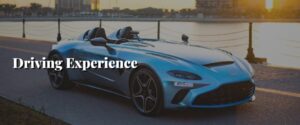 Getting behind the wheel of the Aston Martin V12 Speedster is an experience like no other.
The first thing you'll notice is the sound of the engine, which is a symphony of guttural roars and pops that never gets old. The car's acceleration is also simply breathtaking, and it's not just the raw power that impresses; the engine is also incredibly refined and responsive.
Additionally, the car's handling is equally impressive. The V12 Speedster is built on a modified version of Aston Martin's DBS Superleggera platform, with a shortened wheelbase and lowered suspension. The result is a car that feels incredibly agile and responsive, even at high speeds. The steering is precise and well-weighted, and the car's brakes are powerful and easy to modulate.
Conclusion
Overall, the Aston Martin V12 Speedster is an exceptional car that lives up to its billing as a true driver's machine.
The car's stunning design, raw power, and exceptional handling make it a joy to drive, while its comfortable and well-appointed interior ensures that you'll be able to enjoy the ride in style and comfort.
Its limited production run makes it a true collector's item, ensuring that it will be a sought-after classic for years to come.
If you're looking for a bona fide driver's car that offers the ultimate combination of performance and style, the Aston Martin V12 Speedster is hard to beat.