Some vehicles blend in with the crowd around them, failing to bring any personality or character to the table. They are fine for getting you to work or home and running errands around town, but not much else.
And then there is the Ford Ranger Raptor. Not only does the appearance feature an aggressive stance and an unmistakable off-road look, but it's also packed with a powerful engine and many performance upgrades to take things to the next level.
This post covers all you need to know about the Ford Ranger Raptor. We'll go over the history of this specific model, the characteristics that make it unique, and all the other critical details. After reading this article, you'll be fully informed about the Ford Ranger Raptor.
Introduction of the Ford Ranger Raptor
Ford first used the Ranger model name in 1983 when it unveiled a new compact pickup truck in the North American market. But Ford did not enter the international market with a Ford Ranger until 1998 when it introduced a Mazda-based pickup truck.
In 2011, Ford shook up the Ranger model and its availability. That year, the international markets received a new Ford Ranger developed by Ford Australia, built on a T6 platform. North America, on the other hand, saw the end of the Ford Ranger for the time being.
The T6-based Ford Ranger has been consistently available to the international markets since 2011, with many loving the truck. It seemed to have the right balance between size and fuel efficiency, allowing it to be a widely popular and practical pickup truck.
But something was missing.
When Ford got rid of the Ranger option in North America, it had recently released the first generation of the Ford F-150 Raptor. This model took the brand's most popular North American truck and added some serious power and a host of performance and off-road-focused components.
But the Ranger was left out in the dust until Ford introduced the Ranger Raptor in 2018, available in the 2019 model year. Available exclusively outside of North America, the Ford Ranger Raptor brought all the upgrades from the Raptor lineup to the smaller and more practical pickup truck.
The Ford Ranger Raptor is now in its second generation of design.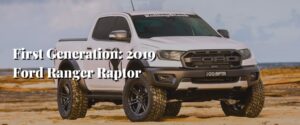 First Generation: 2019 Ford Ranger Raptor
The first-generation Ford Ranger Raptor was the top-of-the-line package available on the Ranger model in some international markets. Like the larger F-150 Raptor available in other markets, its focus was on off-road capability and outright performance.
To achieve this, the Ranger Raptor featured a 2.0L EcoBlue biturbo diesel engine. The twin-turbo engine design allowed for a significant boost in performance, even from the relatively small engine displacement size. It produced 213 PS (210 hp) and 500 Nm (369 lb-ft) of torque.
The Ranger Raptor used a 10-speed automatic transmission and came with a four-wheel drive system standard. It featured a Terrain Management System that allowed drivers to use six different driving modes to match the truck's performance to the driving conditions.
On top of that, the Ford Ranger Raptor received a stiffer chassis to deal with abuse and a racing-grade suspension to handle any bumps. It also had a full lineup of Raptor-specific design features, including a wider track width, taller height, and unique front grille.
It included a host of interior appointments usually found in more luxurious vehicles. These include driver assistance features such as active park assist, a voice-controlled SYNC 3 infotainment system with an 8-inch touchscreen, and a leather-wrapped steering wheel placed over an 8-way power-adjustable driver's seat.
For the markets where the F-150 Raptor wasn't available, those who wanted a ready-to-go adventure truck could now choose the Ford Ranger Raptor to take care of their needs. There was little one could do to improve the vehicle, inside and out.
But that wasn't enough for Ford. So they released a redesigned second-generation version as a 2022 model.
Second Generation: 2022 Ford Ranger Raptor
When early 2022 rolled around, Ford unveiled its much anticipated redesigned Ranger Raptor. It is built on a slightly modified T6 platform, known as the T6.2.
It retains much of the Raptor-specific features that Ford enthusiasts have come to expect, along with a host of new updates for the new model.
Engine and Performance
The new Ford Ranger Raptor left the 2.0L engine behind and replaced it with an EcoBoost 3.0L TT V6 petrol engine. This engine is also used in the Bronco Raptor and produces a whopping 397 PS (392 hp) and 583 Nm (430 lb-ft) of torque, both significantly improved from the 2.0L diesel.
It sticks with the twin-turbo design to deliver maximum power. The engine incorporates a new cylinder block construction with compacted graphite iron replacing the conventional cast iron, providing a stronger and more rigid heart to the engine.
Transmission and Driving Modes
The 10-speed transmission stays in place, with an improved four-wheel drive system featuring front and rear locking differentials plus an expanded selection of driving modes.
When on the pavement, drivers can choose between Normal, Sport, and Slippery modes to adjust performance and handling. Normal provides a comfortable ride with the best fuel efficiency, perfect for driving around town.
But if you want to turn things up a little when on the road, switch to Sport mode. This gives the Ford Ranger Raptor a more responsive feel in acceleration and suspension, perfect for those spirited driving sessions.
Slippery is for times when the road is wet or icy, providing ultimate traction and confidence when driving on slick or uneven on-road surfaces.
But off-road is where the Ford Ranger Raptor shines. And there are four different driving modes to choose from, all designed specifically for off-road usage.
Rock Crawl mode gives the driver ultimate control, perfect for maneuvering over rocky or uneven terrain at very low speeds. Sand switches things up to optimize gear changes, allowing the Ranger Raptor to plough through deep sand or snow without getting stuck.
The Mud/Ruts mode is perfect for those slippery days on the trail by providing maximum launch grip, allowing the vehicle to maintain momentum through challenging terrain.
But perhaps the most beloved driving mode of the Ford Ranger Raptor is the Baja mode.
Sharing the name with the Baja Peninsula in Mexico, where the famous Baja 1000 off-road race takes place, Baja mode sets all systems to maximum performance. Baja mode is designed to meet the most extreme off-road race conditions you can throw at it.
Adjustable Exhaust
The exhaust system is performance-focused but also adjusts with the drive mode selected. The Normal exhaust mode applied when Normal, Slippery, Mud/Ruts, and Rock Crawl drive modes are engaged, is intended for everyday use with a noticeable presence that's not overpowering.
A Quiet exhaust mode is perfect for times when the driver doesn't mind a slight drop in performance in exchange for a more tempered noise. Sport mode provides a slightly more pronounced exhaust noise and performance.
But for those times when all-out off-road performance is desired, Baja mode is the right choice. It transforms the exhaust system to mimic a straight-through design, allowing for increased airflow and performance plus a louder and more pronounced exhaust noise.
Chassis and Exterior Styling
As usual for Raptor vehicles, it also receives a stronger and more rigid chassis to handle off-road abuse. The suspension is also all-new for the second-generation Ford Ranger Raptor, featuring 2.5-inch Fox shocks with Teflon-infused oil to reduce friction.
The exterior style still brings in many Raptor-specific features, starting with the enlarged front grille that uses large black Ford lettering instead of the usual Ford blue-oval logo. It is flanked by matrix LED headlights with daytime running lights and LED tail lights standard.
The wheel arches are flared to fit oversized 33-inch BF Goodrich KO2 all-terrain tyres. They are mounted on 17-inch wheels, which can come with an optional beadlock for the most extreme off-road use.
The front and rear bumpers are also Raptor-specific, allowing for increased approach and departure angles that help with off-road capability.
Interior Features and Available Options
Like the past generation of the Ford Ranger Raptor, the new model delivers interior comfort to supplement the exterior and performance upgrades.
It has two interior displays. A 12.4-inch screen acts as a customizable digital instrument cluster, while a 12-inch portrait touchscreen serves as the infotainment system with SYNV4A voice control plus Apple CarPlay and Android Auto connectivity.
Any audiophile would be thrilled with the 10-speaker Bang & Olufsen premium sound system, while the Raptor's ambient lighting provides an amber glow across the interior. The steering wheel remains wrapped in leather, complete with cast-magnesium paddle shifters.
Ford Ranger Raptor: Wrap Up
If you're looking for an off-road-focused, high-performance pickup truck, the Ford Ranger Raptor delivers. Its 3.0L twin-turbo engine packs almost 400 PS of power, while the advanced adjustable drive system provides the perfect mode for any condition and driving desire.
The Ranger Raptor is designed to deliver maximum off-road performance, built on a stronger, stiffer chassis with high-performance suspension and a variety of exterior upgrades. It also takes care of the interior to give the driver and passengers many luxurious features.
Nothing is left behind with the top-of-the-line Ford Ranger Raptor.