Rolls Royce Motor Cars have been a subsidiary of BMW since 2003. The German brand's takeover of the famous logo and 'Spirit of Ecstasy' bonnet ornament are synonymous with its style, class and integrity.
This originally British brand has been building cars since 1906, earning the reputation of making 'top of the class' luxury motor vehicles. The most famous of these brands' nameplates are the Silver Ghost, Silver Shadow, Phantom and Wraith.
If you were to picture in your mind's eye, the most luxuriously styled motor vehicle, chances are the Rolls Royce would immediately come into view.
BMW's leadership of the Rolls Royce line has produced several makes and models, ranging from coupes, SUVs and limousines. Its current range includes the Cullinan, Dawn, Wraith, Ghost and Phantom.
These high-end luxury vehicles are styled with seven signature features;
A drip rail located in the car door jamb to store umbrellas,

Pure lambswool floor mats produced from only Scottish sheep to protect the floor of the vehicle from moisture,

LED's inbuilt into the ceiling to create a shooting star effect, which on cloudy nights provides a cosy star gazing experience for your passengers.

A retractable 'star of ecstasy' bonnet emblem to prevent it from injuring a pedestrian or being stolen,

A temperature-controlled wine fridge inset into the centre rear armrest and extends into the boot for all your celebratory and picnic needs.

Felt-lined air conditioning vents, to prevent excess noise from disrupting your driving expeditions.

Acoustically designed components on all the vehicle interior moveable parts create a harmonious and quiet driving affair.
You could be forgiven for thinking that with the pandemic affecting the economies of many countries, this would translate to the motor vehicle industry also, in particular the luxury vehicle market. But you would be wrong.
In the 2020 to 2022 period, market sales for luxury vehicles increased. Many affluent people in lockdown situations choose to splash out on their dream cars instead of going on an overseas holiday.
Individualisation and customisation and two key features in a Rolls Royce model. The sky is the limit with each element of the vehicle having a plethora of choices for the trims, paintwork, and bespoke items.
This gives an individual buyer a sense of uniqueness about purchasing this luxury motor vehicle.
The current top five most expensive Rolls Royce are:
1 – Rolls Royce Boat Tail
The bespoke model Rolls Royce Boat Tail is a creation that harks back to the thriving coachbuilding industry which initially made the brand famous all over the world.
Manufactured in May 2021, only three were created. , While an official price has not been listed by Rolls Royce, it is estimated to start at US$ 28 million (A$38.8m at current exchange rates).
The vehicle is produced utilising elements of the Dawn convertible model and combining them with a vintage luxury yacht feel.
The engine is a 6.7-litre twin-turbo V12 that produces 420kW of power.
While the engine is impressive, it's the little design details that make this car appealing. The vehicle's extended tail houses two openings which include a temperature-controlled champagne fridge and a deluxe picnic set.
For further enjoyment of your day trip, there is an automatic parasol that unfolds to shade you as you're sitting on your custom-made Italian leather stools – exclusively made by Promemoria.
The owners of this model will receive a Bovet 1822 timepiece created in unison with the car.
You might ask who would own such a luxurious car? While there is no official confirmation, it's rumoured that power couple Beyonce and Jay-Z do.
2 – Rolls Royce Sweptail
Manufactured in 2017 at a cost of US$ 12.8m, Rolls Royce Sweptail was another bespoke coachbuilder creation. While it has similar stylings to the vintage yacht-inspired Boat Tail, the Sweptail is based on the Phantom Coupe 2013 model.
The front of the vehicle incorporates the brand's trademark grille. Its rear features a tapered window that flows down in a curve from the glass roof.
3 – 10hp Rolls Royce
The 1904 10hp Rolls Royce cost a whopping US$7.2m. This vehicle is the first built model of the brand; as such, there are only a few examples of it left available in mint condition today.
Exclusivity and rarity are what sets this car apart from other models and makes. While it's not much like the modern-styled vehicles, the 10hp has many hallmark features that Rolls Royce is renowned for.
The engine, for its time, was a mighty 1.8-litre which was later updated to a 12hp, 2.0-litre 9.0kW version.
This model also came without any bodywork. Rolls Royce recommended a coachbuilder to manufacture the body. This resulted in minute differences between each model and also likely inspired the models of today, like the Boat Tail and Sweptail.
Another unusual element is the radiator cap which is triangular-shaped. This has become part of the brand's unique styling up to today.
4 – The Corgi
The Rolls Royce 1912 40/50hp Double Pullman Limousine is currently priced at around US$6.4m. Boasting the nickname of 'The Corgi', it is based on the Silver Ghost toy car from the same brand.
This model was introduced in succession to the 10hp and arrived late in 1906. This helped establish Rolls Royce as a true luxury brand style of motor vehicle.
This model kept the driver in mind with the design features, as most luxury cars of this era were created with the view to the owners being chauffeured instead of driving it themselves.
5 – Rolls Royce Phantom II Special Town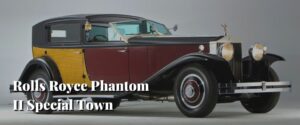 The 1933 Rolls Royce Phantom II Special Town car was produced by Brewster. Today has an estimated cost of US$1.7m.
The exclusive coachbuilding company, Brewster & Co, took the vehicle and after much consideration, revamped it into a limousine.
This tailor-made car was completely rebodied to create a truly alluring limousine for its special owners.
The extravagant wood trim, caned doors, button-tufted wool cloth, sunken seats and gold-plated hardware creates a heightened sense of opulence in this vehicle.
Round
up
While the Boat Tail is the most opulent and expensive model of the brand, the average price of a Rolls Royce in Australia ranges from the Ghost at $628,000 to the Phantom at an astonishing $902,000.
These figures are standard list prices and don't include on-road costs or any personalisation.
Of all nine models available currently in Australia, the average list price across the range runs out at around $729,000.
In 2021, only 48 Australians bought a Rolls Royce. So they still maintain a level of exclusivity in the country.
When costing out a Rolls Royce there are numerous contributing factors. Suffice it to say the volume of handmade components and individual craftsmanship required to build the vehicles, only results in a limited amount of cars being produced.
This, in turn, has a knock-on effect in the market of low supply and very high demand.