The world of luxury automobiles has witnessed the birth of yet another masterpiece from the prestigious Italian coachbuilder – we bring you the mightily impressive Touring Superleggera.
The Touring Superleggera Arese RH95 is a car that embodies the perfect blend of performance, style and craftsmanship. With a history dating back to 1926, Touring Superleggera has a legacy of producing some of the most iconic and breathtaking cars in automotive history. The Arese RH95 – a limited-edition model of the brand – pays homage to Touring Superleggera's heritage while embracing cutting-edge technology and modern design.
In this comprehensive review, we will explore the Touring Superleggera Arese RH95 in more detail, exploring its design, performance, technology, interior and the driving experience it offers to establish just what makes it such a superb vehicle.
Design and Aesthetics
The Touring Superleggera Arese RH95 is a true work of art in terms of its design.
Its name, 'Arese', is a tribute to the Italian town where the Alfa Romeo factory was located – emphasising the car's Italian heritage.
From the moment you lay your eyes on this automobile, it's evident that no detail has been overlooked in its creation.
Exterior Design
The Arese RH95 boasts a design that blends classic and contemporary elements seamlessly. It is built on the platform of the Ferrari 812 Superfast, but Touring Superleggera has given it a distinctive character. The bodywork of the Arese RH95 is a masterpiece of carbon fibre, emphasising lightweight construction for enhanced performance.
At the front, the car features a sharp and aggressive nose, with prominent LED headlights offering striking aesthetics and optimal visibility. The signature trilobe grille, inspired by Alfa Romeo's emblem, takes centre stage and adds a touch of nostalgia.
The side profile is sleek and aerodynamic, with smooth lines and flowing curves that not only enhance the car's aesthetics but also contribute to its overall performance. The signature Flying Barchetta Line, a design feature borrowed from Touring's historic Barchetta cars, creates an elegant and timeless silhouette.
Moving to the rear, the Arese RH95 showcases its unique taillights integrated seamlessly into the design. The quad exhaust tips and the aerodynamic rear diffuser hint at the car's high-performance capabilities. The entire body is sculpted to reduce drag and improve stability at high speeds, making it as functional as it is beautiful.
Interior Design
Sliding into the cabin of the Arese RH95 is like entering a world of Italian luxury. The interior design is a harmonious blend of modern technology and traditional craftsmanship.
Touring Superleggera offers a high degree of customisation, allowing buyers to tailor the interior to their preferences. The cabin is a true testament to Italian craftsmanship, with fine leather and hand-stitched details throughout.
The dashboard is driver-centric, with an elegant design that places all the controls within easy reach. At the same time, the multifunctional steering wheel is wrapped in leather and carbon fibre – adding a sporty and luxurious touch.
The seats are supremely comfortable and offer excellent support, making long drives pleasurable. Buyers can choose from various leather and upholstery options to create a unique and personalised interior.
Overall, the combination of the Arese's interior design and the Ferrari-sourced underpinnings ensures that drivers experience the perfect blend of comfort and performance when they hit the road.
Performance
Under the elegant and aerodynamic skin of the Touring Superleggera Arese RH95 lies a powerhouse of performance.
This limited-edition Italian supercar is designed to deliver exhilarating driving experiences that meet the expectations of the most demanding automotive enthusiasts.
Engine and Powertrain
The heart of the Touring Superleggera Arese RH95 is its formidable engine and powertrain, a masterpiece of Italian engineering.
Under the hood, a 6.5-litre naturally aspirated V12 engine, sourced from the Ferrari 812 Superfast, roars to life with a mesmerizing 819 horsepower and 546 lb-ft of torque. This powerhouse is mated to a slick 7-speed dual-clutch automatic transmission, which ensures lightning-fast gear changes and seamless power delivery.
The engine's performance is simply electrifying, pushing the RH95 from 0 to 60 mph in a mere 2.9 seconds, while the top speed exceeds 211 mph. Overall, the Arese RH95's engine is a symphony of power and precision – making every drive an unforgettable experience and a testament to the Italian passion for performance and craftsmanship.
Handling and Dynamics
The Touring Superleggera Arese RH95's handling and dynamics are a testament to the car's finely tuned chassis and aerodynamic prowess.
With a rear-wheel-drive configuration and a low centre of gravity, it exhibits a remarkable balance between agility and stability. The steering is quick and precise, enabling the driver to execute sharp turns with confidence. Through corners, the car feels planted and communicates with the driver, providing valuable feedback.
Thanks to its advanced suspension system and electronic aids, the Arese RH95 offers an engaging and dynamic driving experience – whether you're carving through mountain roads or tackling a racetrack. Its aerodynamics, designed for optimal downforce and reduced drag, ensure that the car remains stable even at high speeds.
In essence, the RH95's handling and dynamics make it a true driver's car, offering a harmonious blend of performance and precision that elevates the driving experience to a whole new level.
Exhaust Sound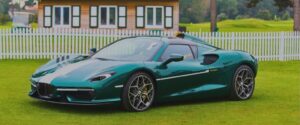 One of the most enchanting aspects of the Arese RH95's performance is its exhaust note. The naturally aspirated V12 engine produces a symphony of sound that can only be described as pure automotive music.
Touring Superleggera has tuned the exhaust system to create a sensational and soul-stirring soundtrack that accompanies every acceleration and gear change.
The driver can even select different driving modes that influence the exhaust note, from a more subdued sound for cruising to an adrenaline-pumping roar for spirited driving.
Technology
While the Touring Superleggera Arese RH95 celebrates the beauty of classic design, it is not a vehicle lacking in modern technology.
The car is equipped with a range of advanced features that enhance its performance, safety and overall driving experience.
Infotainment System
The Arese RH95 features an impressive state-of-the-art infotainment system that includes a touchscreen display, navigation and smartphone connectivity.
The great thing about the system is that it is very user-friendly – providing access to essential functions, crucially, without distracting the driver from the road.
Driver Assistance and Safety
Touring Superleggera has incorporated a suite of driver assistance systems to ensure that the Arese RH95 is not only a high-performance machine but also a safe one.
Features like adaptive cruise control, lane-keeping assist and automatic emergency braking are included as standard to enhance safety during daily driving.
Connectivity
The car also offers connectivity features, such as Bluetooth and Wi-Fi, allowing passengers to stay connected on the go.
Additionally, the infotainment system is compatible with both Apple CarPlay and Android Auto – providing seamless integration with smartphones and a wide range of apps.
Interior Comfort and Space
Inside the Touring Superleggera Arese RH95, a world of luxury and comfort awaits the driver and passenger.
The cabin is meticulously crafted with an exquisite combination of premium materials, including soft leather and carbon fibre, reflecting Italian craftsmanship at its finest. The sports seats provide both support and comfort, making long journeys enjoyable.
Although it's not a spacious sedan, the cabin offers ample room for two occupants, enveloping them in a driver-centric environment that feels both intimate and exclusive. In terms of storage, the front trunk provides limited space for small bags, ensuring that the car maintains its focus on performance and aesthetics.
Overall, the Arese RH95's interior marries sportiness and comfort, creating an environment where the driver and passenger can appreciate the artistry of Italian design while savouring a truly luxurious driving experience.
Driving Experience
The driving experience with the Touring Superleggera Arese RH95 is nothing short of extraordinary. With its 819-horsepower V12 engine, the RH95 delivers exhilarating, thrilling and relentless acceleration.
Whether you're unleashing its power on a straight highway or tackling winding mountain roads, the RH95 is poised to impress. Its handling is precise and responsive, with a well-balanced chassis and agile steering that directly connects the driver and the road.
The car's suspension can be adjusted to provide a comfortable ride for daily driving, highlighting its versatility. Braking performance is equally impressive and the Arese RH95 comes to a halt with confidence and precision. What truly sets the driving experience apart is the mesmerising soundtrack of the naturally aspirated V12 engine, which varies in intensity and tone with different driving modes.
In sum, the Arese RH95 offers a multifaceted and unforgettable driving experience, from exhilarating speed to precision handling, and it's an automotive masterpiece that speaks to the soul of enthusiasts.
Conclusion
The Touring Superleggera Arese RH95 is a testament to the artistry and engineering excellence of Italian automotive craftsmanship. It blends classic design elements with modern technology and exceptional performance, resulting in a limited-edition supercar that is nothing short of a masterpiece.
From its distinctive and aerodynamic exterior design to its luxurious and driver-focused interior, the Arese RH95 captivates the senses and exudes an aura of exclusivity. With an 819-horsepower V12 engine, the RH95 delivers blistering acceleration and breathtaking top speed, making it a true supercar in every sense. Its precise handling, dynamic capabilities, and captivating exhaust note ensure that every drive is an unforgettable experience.
While the Arese RH95 may not be a practical choice for everyday transportation, it is an expression of automotive art and performance that appeals to the most discerning of enthusiasts. Owning and driving a Touring Superleggera Arese RH95 is an experience that transcends ordinary driving and allows one to immerse oneself in the rich history and passion of Italian automotive excellence.