When it comes to luxury sports cars, few names resonate with prestige and performance quite like Aston Martin.
For over a century, this iconic British automaker has been crafting some of the most beautiful and powerful vehicles on the road. The Aston Martin Rapide, a four-door sports sedan, is no exception to this legacy.
In this comprehensive review, we will delve into every aspect of the Aston Martin Rapide, from its history and design to its performance and technology.
By the end of this article, you'll have a clear understanding of what makes this car a true masterpiece.
Aston Martin: A Legacy of Excellence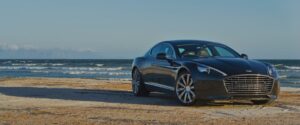 Aston Martin has a rich history and set of values that underpin the brand. Founded in 1913 by Lionel Martin and Robert Bamford, Aston Martin has always stood for a unique blend of elegance and performance. Over the years, they have produced a string of iconic vehicles, cementing their reputation as a symbol of British luxury and engineering prowess.
Aston Martin cars have not just been vehicles; they've been works of art, often compared to a piece of jewelry on wheels. The Rapide, while a deviation from the traditional two-door sports cars, carries forward this legacy with a unique twist – a four-door configuration that combines the performance of a sports car with the practicality of a sedan.
Design
The Aston Martin Rapide is a strikingly beautiful car from every angle. It's a testament to the brand's commitment to timeless design. Every curve, every line, and every detail exudes sophistication and power.
Here is an overview of its design elements:
Exterior
From the moment you lay eyes on the Rapide, you can't help but be captivated by its graceful silhouette. The long, sweeping roofline extends seamlessly from the front to the rear, creating a sense of motion even when the car is stationary. At the same time, the iconic Aston Martin grille, flanked by sleek LED headlights, announces its presence with authority.
The side profile reveals the Rapide's distinctive character. Additionally, the pronounced fender lines, flush door handles and frameless windows contribute to its sleek and aerodynamic appearance. The 20-inch alloy wheels, available in a range of stunning designs, add to the car's visual appeal.
At the rear, the Rapide's design is no less captivating. Similarly, the integrated spoiler, LED taillights and quad exhaust pipes give it a sporty yet refined look. However, it is undoubtedly the brand's signature winged emblem that takes centre stage, reminding onlookers of the car's heritage.
Interior
Inside the Rapide, you'll find an interior that oozes luxury and craftsmanship. Indeed, the cabin is a masterclass in fine materials and attention to detail.
Aston Martin prides itself on its handcrafted approach to interior design. Every surface is finished with the utmost care and precision. You'll find premium materials such as supple leather, carbon fibre, and Alcantara throughout the cabin. The available customisation options allow you to tailor the interior to your exact preferences, making each Rapide unique.
Despite its sedan configuration, the Rapide offers four individual seats, ensuring that every passenger enjoys the same level of comfort and luxury. The rear seats are contoured to provide excellent support during spirited driving while maintaining a high level of comfort for long journeys.
The Rapide also features an advanced infotainment system with a large touchscreen display. It offers navigation, smartphone integration and a premium sound system for an immersive driving experience. The system is intuitive and easy to use, keeping you connected and entertained while on the road.
Overall, while it may be a sports car, the Rapide doesn't skimp on interior space. The rear seats are surprisingly roomy, with ample legroom for adult passengers. At the same time, the trunk is also reasonably spacious, making it suitable for everyday practicality.
Craftsmanship
One of the defining characteristics of Aston Martin is its commitment to craftsmanship. Each Rapide is meticulously assembled by skilled artisans at the brand's headquarters in Gaydon, England. The attention to detail is evident in every aspect of the car, from the perfectly stitched leather seats to the precisely machined aluminum trim pieces. Owning a Rapide is like owning a piece of automotive art.
Performance
While Aston Martin is renowned for its elegant designs, it's equally well known for the heart-pounding performance of its cars. The Rapide is no exception, as it brilliantly combines the power and agility of a sports car with the practicality of a sedan.
Engine Options
The Rapide offers a choice of engines, each providing exhilarating performance.
The base Rapide is powered by a 4.0-litre twin-turbocharged V8 engine. This powerhouse produces 503 horsepower and 505 lb-ft of torque. It propels the car from 0 to 60 miles per hour in just over 4 seconds, with a top speed of 188 mph. Overall, this V8 engine delivers a thrilling driving experience, with a throaty exhaust note that adds to the excitement.
For those who crave even more power, there's the Rapide AMR (Aston Martin Racing). It packs a 5.2-litre naturally aspirated V12 engine under the hood, producing a staggering 595 horsepower and 465 lb-ft of torque. This V12 variant is a true high-performance sedan, capable of sprinting from 0 to 60 mph in a blistering 4.2 seconds and reaching a top speed of 205 mph.
Transmission and Handling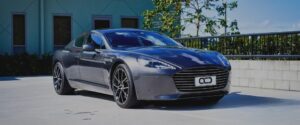 Both engine options come mated to a smooth-shifting 8-speed automatic transmission that ensures power is delivered to the rear wheels with precision.
The Rapide's chassis is tuned for a perfect balance between comfort and sportiness, making it a joy to drive on winding roads.
At the same time, the adaptive suspension system provides a comfortable ride in everyday driving conditions and tightens up when you push the car to its limits.
Driving Modes
The Rapide offers multiple driving modes, allowing you to tailor the car's performance to your preferences. They include:
1. GT Mode
In GT mode, the Rapide provides a comfortable and refined ride, making it ideal for long-distance cruising.
2. Sport Mode
Engaging Sport mode sharpens the car's responses, with quicker throttle and transmission response. It's perfect for spirited driving on twisty roads.
3. Sport+ Mode
For the ultimate driving experience, Sport+ mode takes things up a notch. It tightens the suspension, sharpens the steering and lets the engine roar with a more aggressive exhaust note.
Braking
With such impressive power under the hood, the Aston Martin Rapide doesn't compromise on stopping power. It comes equipped with a high-performance braking system that ensures you can bring this sports sedan to a halt with confidence.
The large brake rotors and calipers provide excellent brake pedal feel and consistent stopping performance, even under demanding conditions.
Technology
While the Rapide is a symbol of timeless elegance, it also incorporates cutting-edge technology to enhance the driving experience and ensure safety.
Here are some of the technological features that come with this luxury sports sedan vehicle:
Infotainment System
The Rapide boasts an advanced infotainment system with a user-friendly touchscreen interface.
It includes features like a built-in GPS navigation system that provides real-time traffic updates and directions to your destination. It also has Smartphone Integration which supports both Apple CarPlay and Android Auto – allowing you to seamlessly integrate your smartphone with the car's infotainment system.
For your listening pleasure, the Rapide can also be equipped with a high-quality audio system, delivering crystal-clear sound quality for a more immersive driving experience.
Driver Assistance and Safety
As Aston Martin is committed to ensuring the safety of its drivers and passengers, the Rapide comes with a range of driver assistance features.
One of them, Adaptive Cruise Control, ensures you maintain a safe following distance from the vehicle ahead and automatically adjusts your speed accordingly.
Congruently, Blind-Spot Monitoring sensors and cameras help detect vehicles in your blind spots, providing visual or audible warnings to prevent potential collisions.
The car also features a Lane Departure Warning system that alerts you if you unintentionally drift out of your lane. Additionally, parking sensors and a rearview camera aid in parking and maneuvering the Rapide in tight spaces.
Driving Experience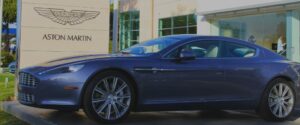 Driving the Aston Martin Rapide is an experience like no other. It's not just about getting from point A to point B; it's about savoring every moment behind the wheel. Here's what you can expect when you take this British masterpiece for a spin:
Acceleration and Power
Whether you opt for the V8 or the V12, the Rapide delivers exhilarating acceleration that pins you to your seat.
The V8 provides a surge of power across the rev range, while the V12's naturally aspirated engine produces a mesmerising soundtrack as it propels you forward.
However, the acceleration is not just impressive on paper; it's a visceral experience that leaves a lasting impression.
Handling and Balance
Aston Martin's engineers have fine-tuned the Rapide's chassis to deliver a balanced and composed ride.
The car feels agile and responsive, with precise steering that communicates the road's nuances to the driver.
Ultimately, whether you're carving through a series of tight corners or cruising on the highway, the Rapide offers a level of handling prowess that few sports sedans can match.
Ride Comfort
While the Rapide is a high-performance sports car, it doesn't sacrifice ride comfort. In GT mode, it glides over road imperfections, providing a serene and comfortable ride.
Switch to Sport mode, and you'll feel the suspension firm up for a more spirited driving experience. The adaptive suspension ensures that you get the best of both worlds.
Sound and Sensation
The auditory experience of driving the Rapide is one of its defining characteristics. The roar of the engine, the growl of the exhaust and the symphony of the road combine to create an immersive driving sensation.
With the windows down, you can fully appreciate the aural delight that this Aston Martin offers.
Ownership Experience
When you own an Aston Martin, you're not just driving a car; you're driving a piece of automotive history. The brand's rich heritage and storied legacy are part of what makes owning an Aston Martin so special. Subsequently, owning an Aston Martin is not just about the car itself; it's about becoming part of an exclusive club of enthusiasts.
The company produce a limited number of vehicles each year, ensuring that owning one is a rare privilege. This exclusivity adds to the allure of the brand and its vehicles.
Aston Martin dealerships provide a level of personalised service that matches the luxury and craftsmanship of the cars. From tailored financing options to concierge services, they go above and beyond to cater to the needs of their customers.
Conclusion
The Aston Martin Rapide represents the pinnacle of automotive craftsmanship, blending elegance, performance and exclusivity into a single package.
From its iconic design and handcrafted interior to its thrilling performance and advanced technology, the Rapide is a true masterpiece of British engineering and luxury.
Overall, it's a car that transcends mere transportation – delivering an unforgettable driving experience that few vehicles can match.