Ferrari has always been known for producing high-performance sports cars. One of the most exceptional cars in their lineup is the Ferrari Scuderia Spider 16M.
This beautiful convertible is based on the F430 Spider and is a tribute to Ferrari's Formula 1 success and their 16th Constructors' World Championship win in 2008.
In this detailed review, we will explore everything about the vehicle – from its design, performance and handling to the interior and driving experience of this Italian masterpiece to showcase exactly what makes it such a fabulous vehicle to drive.
Design and Aesthetics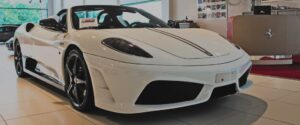 The Ferrari Scuderia Spider 16M is an incredible sight to behold. Its design is a testament to Ferrari's commitment to both form and function – taking the already striking F430 Spider and adding a host of sporty upgrades and enhancements to make something even better.
Exterior
From the moment you look at the Scuderia Spider 16M, you'll be captivated by its captivating aesthetics. The classic Ferrari nose with the prancing horse logo, the aggressive front grille, and the elongated headlamps all contribute to the car's distinct identity. Similarly, the low-slung body with sweeping lines enhances the car's aerodynamics, a feature that is evident in its performance.
The car's rear is equally impressive, with an aerodynamic diffuser and a quad-exhaust setup that emits a glorious symphony of exhaust notes. The carbon-fibre rear grille, Scuderia badges, and the 16M emblem further distinguish this model from its siblings.
The Spider 16M's retractable hardtop roof can be stowed away in just 20 seconds, transforming it into an open-top roadster. This roof design doesn't compromise the car's overall aesthetics when closed, maintaining its sleek and aggressive appearance.
The car is available in many striking colours, but the classic Ferrari red is always a popular choice. The 16M's design is not just about aesthetics; it's a careful blend of art and engineering.
Interior
As you step inside the Scuderia Spider 16M, you'll find that the interior is a perfect blend of luxury and functionality. The cabin is designed to cater to the driver's needs – ensuring they always remain in control.
Noticeably, the dashboard is simple and uncluttered, with a clear instrument cluster consisting of large analogue gauges that provide vital information at a glance. The interior is adorned with carbon-fibre accents, lending it a racing-inspired vibe. At the same time, the steering wheel, wrapped in Alcantara, offers excellent grip and feels just right in your hands.
The car seats, with generous bolstering, offer great support during high-speed cornering. Although it's a two-seater, there's plenty of legroom for the occupants. Overall, the build quality and materials used in the cabin reflect Ferrari's commitment to luxury, and you can even personalize the interior to your liking
Performance
The heart and soul of the Ferrari Scuderia Spider 16M lie beneath its sleek bodywork. This convertible is not just about looks; it's all about raw, unadulterated performance.
Engine and Power
At the core of the 16M is a 4.3-litre V8 engine that delivers a thunderous 503 horsepower at a spine-tingling 8,500 RPM. This engine is a work of art, showcasing Ferrari's engineering prowess and racing pedigree. With a naturally aspirated powerplant, the Scuderia Spider 16M responds instantly to throttle inputs and delivers linear power throughout the rev range.
The car accelerates from 0 to 60 mph in just 3.7 seconds, which is mind-blowing. Congruently, its top speed is 196 mph, and it feels like it's capable of even more. Whether you're driving on the open highway or navigating tight corners, this Ferrari provides a visceral driving experience.
Transmission
The Scuderia Spider 16M is equipped with a 6-speed F1 automated manual transmission. It's quick, precise, and offers the driver full control over gear changes. Paddle shifters behind the steering wheel make gear changes instantaneous – giving you the feeling of driving a Formula 1 car.
The transmission offers multiple driving modes, allowing you to tailor the driving experience to your preferences. Whether you want a relaxed cruise or an exhilarating sprint, the 16M delivers.
Suspension
The 16M is equipped with a sophisticated suspension system that provides a balance between comfort and performance. The adaptive damping system constantly adjusts the shock absorbers to match the road conditions and driving style. This means that you can enjoy a smooth and comfortable ride on a daily basis while still having the ability to stiffen things up for spirited driving.
Brakes
To bring this powerhouse to a halt, Ferrari has equipped the 16M with massive carbon-ceramic brakes. These brakes are fade-resistant and provide remarkable stopping power. Whether you're taking on a twisty mountain road or a closed circuit, the brakes inspire confidence and ensure you can stop on a dime.
Aerodynamics
The 16M's aerodynamics are a work of art. The front splitter and rear diffuser provide downforce, keeping the car planted to the road even at high speeds. Additionally, the active aerodynamics help optimise the balance between downforce and drag – ensuring that the car remains stable in a variety of driving scenarios.
Driving Modes
Ferrari provides the 16M with a Manettino dial on the steering wheel, allowing the driver to select different driving modes.
These modes adjust the car's behaviour, including throttle response, suspension stiffness and traction control settings. You can switch between Normal, Sport and Race modes to adapt to your surroundings and driving style.
Driving Experience
Behind the wheel of the Ferrari Scuderia Spider 16M, the driving experience is nothing short of extraordinary. The combination of the potent V8 engine, lightning-fast transmission and agile handling results in a symphony of performance. The sound of the naturally aspirated engine as it revs toward its redline is music to any car enthusiast's ears.
The 16M has a remarkable ability to convey every detail of the road to the driver, providing a connection that's often lacking in modern sports cars. The steering is precise, allowing you to take corners with confidence, while the suspension keeps the car stable and comfortable even on rough roads.
Whether you're taking a leisurely drive along the coast with the top down or pushing the car to its limits on a racetrack, the 16M delivers an unforgettable driving experience. The car's immense power is matched by its agility and it's a machine that encourages spirited driving.
Technology and Features
While the Ferrari Scuderia Spider 16M primarily centres around delivering a sensational driving experience, it doesn't skimp on modern technology and features.
The car's infotainment system includes a touchscreen display, offering access to navigation and essential functions. However, it's worth noting that the 16M prioritises the act of driving over digital distractions. Connectivity features like Bluetooth and smartphone integration are available for those who wish to stay connected on the road.
The car's safety features are advanced, encompassing elements such as a sophisticated traction control system, carbon-ceramic brakes for impeccable stopping power, airbags, stability control and a high-strength chassis.
Parking sensors make manoeuvring in tight spaces more manageable. While these tech and safety features are present, they complement the Scuderia Spider 16M's primary purpose: delivering a thrilling, immersive driving experience.
Customisation and Personalisation
Ferrari has built a reputation for providing extensive customisation options for its vehicles, and the Scuderia Spider 16M lives up to this legacy. Buyers have the opportunity to tailor various aspects of their car to their exact preferences.
When it comes to the exterior, the choice of colour extends beyond the iconic Ferrari red, offering a wide array of shades to suit individual tastes. The interior is equally versatile, with options ranging from the type of materials used, such as leather or Alcantara, to the selection of colours and finishes, all allowing you to create a truly unique space inside the car.
Wheel designs and sizes can be personalised, affecting both the aesthetics and performance of the car. Carbon fibre elements can be added or reduced as desired, whether for exterior enhancements or interior trims. The iconic racing stripe, a symbol of Ferrari's racing heritage, can be customized in terms of colour and position.
For those seeking an even more distinctive touch, special badges or logos can be incorporated into the design. In essence, the Scuderia Spider 16M serves as a canvas for your automotive dreams, enabling you to craft a vehicle that reflects your personality and preferences down to the finest detail.
Price and Value
The Ferrari Scuderia Spider 16M is a high-end sports car that comes with a premium price tag. The cost of this convertible depends on several factors, including the chosen customisations and any optional features. In general, the base price of a Scuderia Spider 16M starts at around $300,000.
While this is undoubtedly a significant investment, owning a Ferrari is about more than just having a fast car. It's a symbol of prestige, luxury, and unparalleled performance. The exclusivity and craftsmanship of the Scuderia Spider 16M make it a collector's item and an aspirational vehicle for many car enthusiasts.
In terms of value, it's essential to consider that Ferraris tend to hold their value relatively well, especially limited-edition models like the Scuderia Spider 16M. Resale values for Ferraris are often strong, and they can even appreciate in value over time, depending on factors like rarity and desirability.
Conclusion
The Ferrari Scuderia Spider 16M is a celebration of speed, style and heritage. It represents the pinnacle of Italian engineering and design, encapsulating the spirit of Formula 1 racing in a convertible sports car that's accessible to a select few.
From its captivating exterior design to its ferocious V8 engine and precise handling, the 16M is a symphony of performance that delights the senses. It offers an exhilarating driving experience that few other vehicles can match.
While it may lack some of the modern infotainment features found in luxury cars, the 16M compensates with its dedication to the art of driving. It's a car for those who appreciate the joy of controlling a high-performance machine – where the engine's roar and the road ahead are the primary focus.
In terms of value, the Scuderia Spider 16M isn't just a car; it's an investment in a piece of automotive history. Its exclusivity and the legacy of Ferrari make it a desirable collector's item that can be appreciated in value over time.
So, if you're in the fortunate position of being able to consider the Scuderia Spider 16M as your next vehicle, you'll be joining a select group of automotive enthusiasts who understand that a Ferrari isn't just a car – it's a passion, a lifestyle and a statement of excellence on the road.