The Bentley Continental GT is a name that reverberates throughout the automotive world – synonymous with opulence, power and exquisite craftsmanship.
Since its inception in 2003, this British masterpiece has captured the hearts of luxury car enthusiasts around the globe. With each new iteration, Bentley consistently raises the bar, pushing the boundaries of automotive engineering and design.
In this in-depth review, we'll take a close look at the Bentley Continental GT, exploring its design, performance, interior, technology, and more, to understand why it continues to be the embodiment of modern luxury on four wheels.
Design – A Vision of Elegance
The Bentley Continental GT has always been known for its striking design, and the latest model is no exception. It's a beautiful blend of contemporary aesthetics and timeless elegance. Here are some of the design highlights:
Iconic Silhouette: The signature fastback silhouette of the Continental GT remains intact, characterised by its long, sweeping lines and perfectly proportioned body. The design manages to be both classic and modern, making a statement without being ostentatious.
Distinctive Matrix Grille: The imposing Matrix grille with its iconic B logo is front and centre, and it adds a sense of grandeur to the vehicle's overall presence.
LED Matrix Headlights: The standard LED Matrix headlights are not only a safety feature but also a design element, with their intricate detailing and crystal-clear illumination.
Muscular Fenders: The wide, muscular fenders hint at the performance capabilities of this grand tourer. They house large alloy wheels available in various designs.
Fluid Lines and Sculpted Details: The body of the Continental GT is adorned with fluid lines and subtle sculpted details, which showcase the attention to detail that Bentley is famous for.
Customisation Options: Bentley offers an extensive array of customisation options for the Continental GT. From a vast colour palette to a choice of veneers and leathers, customers can tailor their Continental GT to their individual tastes.
Performance
The Bentley Continental GT has always been more than just a pretty face. It's a grand tourer that offers impressive performance under the hood. The 2023 model continues this tradition with refinements and power that exhilarate even the most discerning drivers.
Engine Options: The 2023 Continental GT offers two engine options, both formidable in their own right. The base model is powered by a 4.0-litre twin-turbocharged V8 engine, generating 542 horsepower and 568 lb-ft of torque. For those who crave even more power, there's the W12 option, which is a 6.0-litre twin-turbocharged W12 engine, producing a staggering 626 horsepower and 664 lb-ft of torque. This means that the Continental GT can accelerate from 0 to 60 mph in just over 3 seconds.
All-Wheel Drive: Power is sent to all four wheels via an intelligent all-wheel-drive system, ensuring that the Continental GT remains planted on the road, no matter the conditions.
Suspension and Handling: The Continental GT is equipped with an adaptive air suspension system that can be tuned to provide a comfortable ride or a sportier, firmer feel, depending on the driver's preference. This duality of character is part of what makes the Continental GT a true grand tourer.
Bentley Dynamic Ride: The Bentley Dynamic Ride system is a 48-volt electric active anti-roll control system that enhances both comfort and handling. It keeps the car level and stable, even when taking on tight corners at high speeds.
Bentley Driving Modes: The car offers a choice of driving modes that allow you to tailor the car's performance characteristics to your liking – from comfortable cruising to thrilling sportiness.
Top Speed: The Continental GT boasts a top speed of 198 mph for the V8 and 208 mph for the W12, making it one of the fastest grand tourers on the market.
Interior
Step inside the Bentley Continental GT, and you're welcomed into a world of unparalleled luxury and craftsmanship. The interior is a masterpiece, with no detail too small to escape Bentley's meticulous attention.
Handcrafted Materials: Bentley is renowned for its use of handcrafted materials and the Continental GT is no exception. Fine leather, wood veneers and metal accents are used throughout the cabin, showcasing impeccable craftsmanship.
Heated and Ventilated Seats: The seats are not just comfortable; they're heated and ventilated for optimal comfort in any weather. Massage functions are also available, making long drives a relaxing experience.
Three-Sided Rotating Display: The centrepiece of the dashboard is the innovative three-sided rotating display. It consists of a 12.3-inch touchscreen, a set of three analog dials and a blank veneer. You can rotate between them to display what you need at any given moment, whether it's navigation, infotainment, or simply the clean look of the veneer.
Naim Audio System: For audiophiles, the optional Naim audio system is a must. This 2,200-watt, 21-speaker system offers an immersive audio experience, turning your car into a mobile concert hall.
Spacious Interior: The Continental GT offers ample space for both the driver and passengers. Rear-seat passengers will appreciate the roomy back seats, which can comfortably accommodate two adults on longer journeys.
Attention to Detail: Bentley pays attention to the smallest details, such as the diamond-in-diamond quilt pattern on the seats, the knurled finish on the rotary knobs and the Bentley logo embroidered into the headrests. These touches are what set the Continental GT apart from other luxury cars.
Technology
Bentley has managed to seamlessly integrate modern technology into the Continental GT without compromising its classic appeal. Here are some of its main technological highlights:
Bentley Rotating Display: The vehicle's innovative three-sided rotating display is both a technological marvel and a design statement. It's intuitive to use and provides access to the car's various systems.
Head-Up Display: The Continental GT features a crisp head-up display that projects vital information onto the windshield – reducing the need to take your eyes off the road.
Infotainment System: The infotainment system is powered by a cutting-edge processor, ensuring swift response times. It's compatible with Apple CarPlay and Android Auto, allowing seamless integration of your smartphone.
Advanced Driver Assistance Systems (ADAS): The 2023 Continental GT offers an array of driver assistance features, including adaptive cruise control, lane-keeping assist, traffic sign recognition and more. These systems enhance safety and reduce driver fatigue during long journeys.
Keyless Entry and Push-Button Start: The Continental GT comes with keyless entry and push-button start – making it incredibly convenient for the driver.
Ride and Comfort
The Bentley Continental GT is designed with long-distance driving in mind. It excels in delivering a comfortable and refined ride, ensuring you arrive at your destination feeling relaxed and rejuvenated.
Air Suspension: The Continental GT's adaptive air suspension system is the key to its remarkable ride comfort. It effectively absorbs road imperfections and provides a plush and isolated cabin experience.
Noise Isolation: The interior is well-insulated against outside noise, ensuring that the cabin remains whisper-quiet even at high speeds. Road and wind noise are minimal, allowing for easy conversation and enjoyment of the premium audio system.
Cabin Comfort: The comfortable seats, with their adjustable settings and massage functions, play a significant role in long-distance comfort. They are ergonomically designed to reduce fatigue on extended drives.
Temperature Control: Dual-zone climate control with multiple temperature zones ensures that both the driver and passengers are always at the perfect temperature, regardless of the weather outside.
Suspension Adjustability: The driver can tailor the suspension to their liking – with multiple settings for both comfort and sporty driving. This adaptability allows the Continental GT to excel as a grand tourer, whether you're cruising down the highway or navigating twisty backroads.
Practicality
While the Bentley Continental GT is primarily designed for luxury and performance, it's not devoid of practicality.
Trunk Space: The trunk offers a respectable 13.3 cubic feet of cargo space. This is sufficient for a weekend getaway with a couple of suitcases and some smaller items.
Rear Seats: The rear seats can be folded down to accommodate longer items that wouldn't fit in the trunk, further enhancing the Continental GT's versatility.
Long-Distance Comfort: The comfort and ride quality of the Continental GT make it a fantastic choice for long drives and its spacious rear seats make it a practical option for four adults.
Fuel Efficiency: While fuel efficiency is not typically a top priority for luxury car buyers, the Continental GT's efficient V8 engine can return a relatively respectable 20-25 mpg on the highway – so it is a viable option for extended road trips.
Safety
Safety is paramount, even in a luxury grand tourer like the Bentley Continental GT. Here are some of the safety features you can expect:
Advanced Driver Assistance Systems (ADAS): The Continental GT comes equipped with a suite of ADAS features, including adaptive cruise control, lane-keeping assist, blind-spot monitoring and traffic sign recognition. These systems enhance safety and assist the driver in maintaining control and awareness.
Night Vision: An optional night vision system is available, using thermal imaging to detect pedestrians, cyclists and animals on the road at night. It provides a significant safety advantage when driving in low-light conditions.
Airbags: Standard airbags include front, side and curtain airbags for all occupants – offering comprehensive protection in the event of a collision.
Rearview Camera: The standard rearview camera assists in parking and low-speed maneuvers, ensuring that the driver has a clear view of the vehicle's surroundings.
Ownership Experience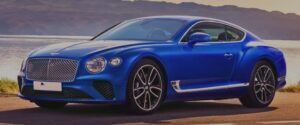 Owning a Bentley Continental GT is not just about the initial purchase; it's about the entire ownership experience, which Bentley excels at providing.
Warranty: Bentley offers a comprehensive warranty package that includes a three-year limited warranty, three years of complimentary scheduled maintenance and a three-year roadside assistance program. This package provides peace of mind to Bentley owners.
Service and Support: Bentley has a global network of dealerships and service centres, ensuring that owners can easily access maintenance and support, no matter where they are located.
Personalisation: Bentley is renowned for its commitment to personalisation. Owners have access to an array of customisation options to make their Continental GT truly unique.
Resale Value: Bentley vehicles – including the Continental GT – often hold their value well over time, which is an important consideration for those who may wish to upgrade or change their vehicle in the future.
Conclusion
The 2023 Bentley Continental GT is the embodiment of modern luxury and grand touring. With its timeless design, remarkable performance, exquisite interior and seamless integration of technology, it continues to be a symbol of automotive excellence. While it comes with a significant price tag, the Continental GT delivers an experience that few cars can match.
If you're in the market for a grand tourer that blends the raw power of a sports car with the refinement and comfort of a luxury sedan, the Bentley Continental GT is undoubtedly a top contender. It's a car that not only takes you from point A to point B but also envelops you in an ambience of sophistication and grandeur. From its awe-inspiring engine options to its meticulously crafted interior, the Continental GT is a car for those who demand nothing but the best.
Overall, the Bentley Continental GT isn't just a car; it's an experience, a testament to the marriage of technology and craftsmanship and a statement of one's appreciation for the finer things in life. It's a vehicle that speaks to the heart and soul of the automotive enthusiast – offering a blend of luxury and performance that few can rival.
If you have the means and the desire, to own a piece of automotive history, the Bentley Continental GT is more than worth considering. In short, it's a work of art on wheels.