When it comes to performance-oriented luxury sports cars, BMW's M series is up there with the best in the business.
These vehicles are designed to deliver a thrilling driving experience, blending cutting-edge technology, exquisite craftsmanship and breathtaking power.
In this article, we will take an in-depth look at one of BMW's most iconic models, the BMW M4. During it, we will explore what makes it a standout option in the world of high-performance cars.
If you are a fan of BMW vehicles, or just love beautifully made cars, you'll no doubt be fascinated what you are about to read.
Introduction to the BMW M4
The BMW M4, a distinguished member of the esteemed M series lineup, represents the pinnacle of automotive engineering and driving exhilaration.
Born from the storied history of BMW's Motorsport division, the M4 embodies a legacy deeply rooted in performance, precision, and passion for the road. This iconic sports car stands as a testament to BMW's unrelenting pursuit of the ultimate driving experience.
With a heritage that traces back to the legendary BMW M3, the M4 has consistently pushed the boundaries of what is possible in a high-performance luxury coupe. The more you explore its dynamic features and captivating performance, the more it becomes clear that the BMW M4 is far more than just a vehicle.
Overall it's a symbol of automotive excellence, a fusion of cutting-edge technology and the embodiment of pure driving pleasure.
Engine and Performance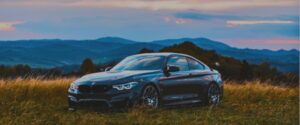 The heart of any sports car is its engine, and the BMW M4 doesn't disappoint. Under the hood, you'll find a potent powerplant that ensures exhilarating performance. The current generation features a 3.0-litre inline-six engine, available in two variants: the M4 and the M4 Competition. Here's a closer look at their performance figures:
BMW M4:
Engine: 3.0-litre inline-six
Power: 473 horsepower
Torque: 406 lb-ft
0-60 mph: 4.1 seconds (with the manual transmission)
BMW M4 Competition:
Engine: 3.0-litre inline-six
Power: 503 horsepower
Torque: 479 lb-ft
0-60 mph: 3.8 seconds
Both versions of the M4 come with rear-wheel drive as standard, but BMW offers the option of xDrive all-wheel drive for those seeking enhanced traction in various driving conditions.
Additionally, the M4 Competition, with its extra horsepower and torque, shaves precious tenths of a second off the 0-60 mph time, making it the ultimate choice for thrill-seekers.
Transmission Options
BMW caters to enthusiasts who prefer both manual and automatic transmissions.
The standard transmission is a slick 6-speed manual, providing a traditional and engaging driving experience. However, for those who want lightning-fast gear changes, the optional 8-speed automatic transmission is a marvel.
It features paddle shifters and multiple driving modes, including a highly responsive Sport+ mode for maximum performance.
Driving Dynamics
The BMW M4 is renowned for its dynamic driving characteristics. It's a car that feels alive on the road, with sharp steering, excellent body control and a finely tuned suspension. BMW's engineers have spent countless hours refining the M4's chassis to ensure that it can tackle tight corners and open highways with equal aplomb.
Adaptive M Suspension: The M4 comes equipped with an adaptive suspension system that can adjust damping rates in milliseconds, providing a comfortable ride in daily commuting and transforming into a performance-focused setup at the push of a button.
M Differential: A rear-wheel-drive car like the M4 benefits from a limited-slip rear differential, which helps distribute power effectively between the rear wheels, resulting in improved traction and stability during spirited driving.
M Dynamic Mode: The M4 features various driving modes, including Comfort, Sport, and Sport+, which adjust settings for throttle response, steering, suspension and more. In Sport+ mode, you'll experience a more direct and engaging connection with the road.
Design and Styling
The BMW M4 boasts a design that exudes aggression and athleticism. It features a bold front grille, muscular wheel arches and a sleek, aerodynamic profile. LED headlights with signature BMW 'angel eyes' and an iconic M-specific quad-exhaust setup at the rear make the M4 instantly recognisable.
M Carbon Exterior Package: For those who want to take the M4's visual appeal to the next level, BMW offers an optional M Carbon Exterior Package. This package includes carbon fibre accents on the front air intakes, mirror caps, rear diffuser and spoiler, adding a touch of motorsport-inspired flair.
Interior Comfort and Technology
When you step into the BMW M4 and you'll find a driver-focused cockpit with high-quality materials and an array of advanced technology features.
M Sport Seats: The M4 comes with M Sport seats, which provide excellent lateral support during spirited driving while remaining comfortable on long journeys. These seats can be upgraded to carbon fiber-backed seats for weight reduction.
iDrive 7.0: BMW's iDrive infotainment system is among the best in the industry. The latest iteration – iDrive 7.0 – offers a user-friendly interface, a responsive touchscreen and the convenience of voice control. It also supports Apple CarPlay and Android Auto.
Digital Instrument Cluster: The M4 features a configurable digital instrument cluster that allows you to customise the information displayed, including navigation, performance data and more.
Driver Assistance Features: BMW offers a suite of driver assistance features, including adaptive cruise control, lane departure warning, blind-spot monitoring and parking assistance – designed to enhance your safety and convenience.
Practicality and Space
While the BMW M4 primarily focuses on performance, it doesn't completely sacrifice practicality. It offers comfortable seating for four passengers and a reasonably spacious trunk for a sports car.
The rear seats can be folded down to expand cargo capacity further, making it a versatile choice for a weekend getaway.
Driving the BMW M4
While the technical specifications and features of the the BMW M4 are impressive, the driving experience is quite something else too.
Acceleration and Power Delivery
The M4's engine delivers power in a smooth and linear fashion, with a surge of acceleration that's sure to put a smile on your face.
In the Competition variant, the extra horsepower and torque result in blistering acceleration, especially when you engage Launch Control. Additionally, the engine's soundtrack – thanks to the M Sport exhaust – is music to the ears, with pops and crackles on the overrun adding to the excitement.
Handling and Cornering
The M4's handling is one of its standout features. It feels poised and balanced in corners, with precise steering that lets you place the car exactly where you want it.
The rear-wheel-drive configuration can be playful, allowing for controlled drifts and thrilling power slides when desired. On the other hand, the xDrive all-wheel-drive system provides exceptional traction – ensuring confident grip in various conditions.
Ride Comfort
Despite its performance-oriented nature, the BMW M4 manages to provide a comfortable ride, especially when equipped with the adaptive suspension.
In Comfort mode, it soaks up road imperfections with ease, making it suitable for daily commuting. However, keep in mind that selecting Sport or Sport+ mode will stiffen the suspension for a firmer, more connected feel to the road.
Braking
The M4's braking system is well-matched to its performance capabilities, offering strong and consistent stopping power – with excellent pedal feel.
Additionally, the optional carbon-ceramic brakes, available on the Competition model, provide even greater braking performance and resistance to fade during aggressive driving.
Everyday Usability
While the BMW M4 is undoubtedly a high-performance machine, it doesn't have to be reserved solely for weekend drives.
It's also a practical choice for daily commuting, offering a comfortable ride, reasonable fuel efficiency (given its power) and driver assistance features that make highway cruising a breeze.
The BMW M4 can seamlessly transition from being a thrilling sports car to a comfortable daily driver, making it a versatile choice for those who seek both excitement and practicality.
Fuel Efficiency
It's essential to note that the BMW M4 prioritises performance over fuel efficiency.
The powerful inline-six engine, especially in the Competition variant, can be thirsty when driven enthusiastically. However, in more relaxed driving conditions, it can return relatively reasonable fuel economy figures.
Thankfully, the inclusion of auto start-stop technology helps conserve fuel when idling in traffic.
Ownership Costs
Owning a high-performance sports car like the BMW M4 involves more than just the initial purchase price. Maintenance and ownership costs should also be considered.
BMW offers a competitive warranty package, which typically includes a four-year/50,000-mile limited warranty and complimentary scheduled maintenance for the first few years.
However, it's important to budget for maintenance, as parts and service for performance vehicles can be more expensive than for standard models. So, it is important to heart this in mind if you are considering a purchase.
Customisation and Packages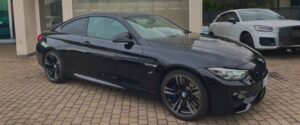 BMW offers a range of customisation options and packages for the M4, allowing buyers to tailor their car to their preferences.
Some popular packages and options to consider include:
Competition Package: Enhances the M4 Competition's performance with features like upgraded brakes, an M Sport exhaust and unique suspension tuning.
Executive Package: Adds premium features such as heated and ventilated seats, a head-up display and adaptive LED headlights for improved visibility.
M Driver's Package: Increases the top speed and includes a day of high-performance driving instruction at a BMW performance centre.
M Carbon Ceramic Brakes: Provides ultimate stopping power and reduced brake fade during extreme driving conditions.
M Performance Parts: BMW offers a range of aftermarket parts and accessories for those who want to further enhance their M4's performance and aesthetics.
Conclusion
In the world of high-performance sports cars, the BMW M4 has established itself as a formidable contender. Its potent engine, agile handling and luxurious interior combine to offer a well-rounded driving experience. Whether you're tearing up the track or cruising on the highway, the M4 delivers excitement and comfort in equal measure.
However, like any car, it's not without its competitors and considerations. Buyers should weigh their priorities, such as performance, brand loyalty and budget, when choosing a sports car in this segment. The BMW M4 is an excellent choice for those who value a harmonious blend of performance and practicality in a luxurious package.
Ultimately, the BMW M4 is more than just a car; it's an embodiment of BMW's philosophy of 'The Ultimate Driving Machine'. It's a testament to engineering excellence and a symbol of the joy of driving, making it a worthy addition to the garage of any car lover seeking a thrilling and rewarding driving experience.