When it comes to the world of luxury automobiles, Bentley has always been a name synonymous with elegance, opulence and performance.
With a rich heritage dating back to 1919, this British marque has consistently delivered some of the most iconic and prestigious vehicles in the automotive industry. One such masterpiece is the Bentley Buccaneer, a model that has recently graced the streets and captured the hearts of automotive enthusiasts worldwide.
In this comprehensive article, we'll take a detailed look at the Bentley Buccaneer, exploring its history, design, performance and the unmatched luxury it offers those lucky enough to own one.
Legacy
Bentley was founded in 1919 by one W.O. Bentley in Cricklewood, North London. From the very beginning, Bentley had a clear vision – to build 'a fast car, a good car, the best in its class'. This vision led to the development of exceptional cars that blended performance with luxury, a philosophy that remains at the core of Bentley's DNA.
Bentley quickly made a name for itself in motorsports. In the 1920s, Bentley cars dominated the racing scene, including winning the prestigious 24 Hours of Le Mans in 1924 and four consecutive victories from 1927 to 1930. This racing heritage has always been a fundamental part of Bentley's identity, showcasing their dedication to engineering excellence.
In more recent times, Bentley has evolved to meet the changing demands of the automotive industry. While the brand still holds true to its commitment to luxury and performance, it has incorporated cutting-edge technology, innovative design and eco-friendly initiatives to stay relevant in the 21st century.
The Birth of Bentley Buccaneer
The Bentley Buccaneer is a symbol of Bentley's relentless pursuit of perfection. Born from the company's passion for pushing boundaries, the Buccaneer is a concept car inspired by the brand's rich heritage and marries it with modern design and engineering.
The concept for the Buccaneer began as an exploration of what a Bentley sports car of the future might look like. Bentley's design team – led by their visionary head of design – set out to create a vehicle that would evoke the spirit of the brand's racing history while embodying the utmost luxury and innovation.
Design Evolution
The Buccaneer's design evolution is a testament to Bentley's commitment to pushing the envelope.
The design team drew inspiration from classic Bentley models like the 1929 Blower Bentley, incorporating signature elements like the distinctive mesh grille and round headlamps. However, they combined these vintage touches with a modern, aerodynamic body featuring sleek lines, a low-slung profile and gull-wing doors, making it a true work of art.
The interior of the Buccaneer is a showcase of opulence. Bentley's master craftsmen have spared no expense using the finest materials, from handcrafted leather seats to polished wood veneers. The cabin is a true sanctuary for the driver and passengers – blending modern technology and classic Bentley elegance.
Technical Specifications
The Bentley Buccaneer is a performance powerhouse. Beneath its stunning exterior lies a cutting-edge powertrain that delivers impressive figures. Some of the key technical specifications include:
Engine: A powerful twin-turbocharged W12 engine
Power Output: Over 700 horsepower
Acceleration: 0 to 60 mph in less than 3 seconds
Top Speed: Exceeding 200 mph
All-Wheel Drive: Ensures exceptional handling and stability
These specifications make it clear that the Buccaneer is not just about luxurious aesthetics; it's a true supercar that offers a thrilling driving experience.
Sustainability and Environmental Initiatives
Bentley is not only committed to crafting exceptional cars but also to doing so with a strong emphasis on sustainability.
The Buccaneer incorporates several eco-friendly features, including lightweight materials to enhance fuel efficiency, advanced hybrid technology and low emissions. All of which align with Bentley's goal to be a more environmentally responsible automaker.
Performance Excellence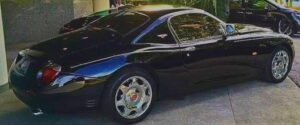 The performance of the Bentley Buccaneer is very impressive. At the heart of the Bentley Buccaneer is its formidable engine. Powered by a twin-turbocharged W12 engine, the Buccaneer generates over 700 horsepower. This immense power is channelled to all four wheels, ensuring remarkable acceleration and exhilarating top speeds.
The engine's design and engineering result in a seamless blend of power and refinement – providing the driver with an experience that is nothing short of extraordinary. With the ability to go from 0 to 60 mph in less than 3 seconds, the Buccaneer showcases its supercar capabilities. Furthermore, its all-wheel-drive system ensures optimal traction and handling, even during aggressive acceleration. This feature allows the driver to feel in control at all times, making the Buccaneer a joy to drive on straightaways and winding roads.
The Buccaneer has an advanced transmission system that enables smooth gear changes. Its suspension is finely tuned to strike the perfect balance between ride comfort and sporty handling.
So, whether cruising on the highway or tackling tight corners, the Buccaneer's suspension ensures you enjoy a composed and confident ride.
A high-performance car like the Buccaneer must also have exceptional braking capabilities to match its speed. Bentley has equipped this sports car with a state-of-the-art braking system with superb stopping power. The brake callipers, adorned with the Bentley emblem, not only look stunning but also provide the necessary precision to bring the car to a halt quickly and safely.
Interior
Bentley's master craftsmen have meticulously designed and crafted every aspect of the interior to exude luxury.
One of the first things you'll notice is that the seats are wrapped in the finest hand-stitched leather. At the same time, the cabin is adorned with polished wood veneers, while meticulous attention to detail is evident in every stitch and surface.
Beyond its sumptuous materials, the Buccaneer offers several modern amenities designed for ultimate comfort and convenience. The seats are not only beautifully designed but also highly adjustable – allowing you to find your perfect driving position. Additionally, the infotainment system includes a high-resolution touchscreen, providing access to various features from navigation to entertainment. The cabin is also exceptionally quiet, allowing for a serene driving experience.
Bentley is known for offering a high level of customisation for its vehicles, and the Buccaneer is no exception. Customers can choose from an extensive range of colours, materials and finishes to create a personalised interior that suits their tastes. Bentley's Mulliner division – known for its bespoke craftsmanship – can take customisation to even greater heights.
Incorporating the latest technology, the Buccaneer features advanced driver assistance systems, keeping you safe and confident on the road. Additionally, the car has state-of-the-art connectivity options – allowing you to seamlessly integrate your smartphone, access navigation and enjoy high-quality audio through the premium sound system.
Despite its sleek and compact exterior, the Bentley Buccaneer provides a surprising interior space. The cabin is designed to accommodate two passengers comfortably, and there is sufficient storage space for a weekend getaway or a short road trip. At the same time, the trunk offers enough room for a few pieces of luggage or golf bags, making it practical for more than just a spirited drive.
Environmental Responsibility
Overall, the design and creation of the Bentley Buccaneers demonstrates a notable focus from the company on their environmental responsibility.
One of the key aspects of the Bentley Buccaneer's commitment to sustainability is its lightweight construction. Bentley engineers have worked tirelessly to reduce the vehicle's weight through the use of advanced materials and engineering techniques. This not only enhances fuel efficiency but also contributes to the car's agile handling and performance.
To further reduce its carbon footprint, the Buccaneer incorporates hybrid technology. The car features an electric motor that can be engaged to drive on electric power alone for short distances – subsequently reducing emissions and fuel consumption. Overall, this eco-friendly technology reflects Bentley's dedication to environmental responsibility.
Bentley has set ambitious goals to reduce its carbon emissions. The Buccaneer is designed to produce fewer emissions and comply with strict environmental regulations. By incorporating advanced exhaust systems and emissions-reducing technologies, the car is on the path to minimising its environmental impact.
Pricing and Availability
As a luxury supercar, the Bentley Buccaneer not surprisingly comes with a premium price tag. While the exact pricing can vary depending on the level of customisation and additional features, it typically falls within the range of high-end sports cars. Prospective buyers should contact Bentley dealerships for precise pricing information.
The Bentley Buccaneer is a limited-production model, making it a rare and highly sought-after vehicle. Due to its exclusivity, availability is limited, and potential buyers may need to join a waiting list to secure their own Buccaneer. Bentley dealerships can provide information on availability and how to reserve one.
Conclusion
The Bentley Buccaneer is a masterpiece that encapsulates the very essence of Bentley's legacy. With its stunning design, exceptional performance, unmatched luxury and commitment to sustainability, it represents the pinnacle of what a modern sports car can be. From its racing heritage to its innovative technology, the Buccaneer embodies the spirit of Bentley – continuously pushing the boundaries of what is possible in the world of luxury automobiles.
The Buccaneer stands as a symbol of Bentley's dedication to crafting the finest vehicles and its commitment to addressing the challenges of the 21st century with sustainability and eco-friendly technologies. For those fortunate enough to experience the Buccaneer, it offers a glimpse into the future of luxury motoring, where power and opulence coexist harmoniously.
Ultimately, the Bentley Buccaneer is not just a car; it's a work of art, a technological marvel and a testament to the enduring legacy of Bentley. It serves as a reminder that the pursuit of perfection knows no limits and that, for Bentley, the road to the future is paved with luxury and innovation.