McLaren is known for producing top-of-the-line supercars that are both thrilling and impressive.
One of their newer releases, the McLaren 620R, is a limited edition street-legal race car that takes inspiration from the McLaren 570S GT4 race car.
With only 350 units available, the 620R is designed to be the ultimate track-focused car that can also be driven on public roads.
In this review, we will examine the design, performance, and features of the McLaren 620R to determine if it lives up to the hype.
Launch
The McLaren 620R was first unveiled in December 2019 as a limited edition model.
The production of this exclusive vehicle began in January 2020, and deliveries to customers started shortly thereafter.
The 620R was initially intended to be built in a limited run of just 350 units, but that number was later reduced to only 225 vehicles, making it even more exclusive.
At the time of writing, all 225 cars have been sold out, and the only way to get your hands on one is through a private resale.
The 620R marked the end of production for McLaren's Sports Series cars, which included models such as the 570S and 570GT.
Despite being a limited edition model, the 620R received high praise from automotive enthusiasts and critics alike, cementing its place in the pantheon of great supercars.
Design
At first glance, the McLaren 620R is immediately recognisable as a race-inspired machine. The car's aerodynamic design features a large rear wing, front splitter, and side skirts, all of which are designed to increase downforce and enhance the car's handling capabilities.
The car's impressive lightweight carbon fibre bodywork and 19-inch front and 20-inch rear lightweight alloy wheels also contribute to the car's overall performance and handling.
Inside the cabin, the 620R is spartan and minimalist, with a focus on functionality over luxury. The seats are lightweight carbon fibre racing buckets, and the dashboard features a digital instrument cluster with a minimalist design.
The car's interior is also equipped with air conditioning and a high-end Bowers & Wilkins sound system, which are both welcome features for a street-legal car that can be driven on motorways and other public roads.
Performance
Under its hood, the McLaren 620R is powered by a 3.8-litre twin-turbocharged V8 engine that produces 610 horsepower and 457 lb-ft of torque.
The engine is mated to a dual-clutch 7-speed automatic transmission that can shift gears in as little as 50 milliseconds. This powertrain allows the 620R to zip from 0 to 60 mph in just 2.8 seconds, with a top speed of 200 mph.
One of the most impressive aspects of the 620R's performance is its handling. The car features a race-inspired suspension system that includes adjustable dampers, anti-roll bars, and lightweight aluminum wishbones.
The car's hydraulic steering system is also highly responsive and provides excellent feedback to the driver. All of these features come together to create a car that is incredibly nimble and agile on the track.
Features
In addition to its impressive performance capabilities, the McLaren 620R also comes equipped with a number of high-end features. The car's infotainment system includes a 7-inch touchscreen display, which provides access to features like navigation, Bluetooth connectivity, and satellite radio. The car's interior is also equipped with a rearview camera, parking sensors, and an advanced air conditioning system.
One of the most notable features of the 620R is its carbon-ceramic brakes. These high-performance brakes are designed to provide exceptional stopping power, even under the most demanding driving conditions. The brakes are also equipped with McLaren's Brake Steer system, which can apply braking force to the inside rear wheel during cornering to help the car turn in more quickly.
Driving Experience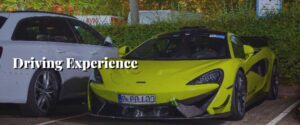 The driving experience of the McLaren 620R is truly exhilarating and unique, thanks to its race-inspired engineering and design. As soon as you sit behind the wheel, you can feel the immense power and agility of this car, which is designed to deliver a pure driving experience.
The sound of the engine is also a delight to the ears, with a deep growl that transforms into a high-pitched scream as the revs climb.
The handling of the 620R is also superb. It features race-inspired suspension and aerodynamics that keep the car planted on the road, even at high speeds. The steering is precise and responsive, allowing you to carve through corners with confidence.
In addition, the 620R comes with a range of driving modes that allow you to adjust the car's behaviour to your liking. These include Normal, Sport, and Track modes, which modify the suspension, throttle response, and other settings to suit the driving conditions.
Overall, the driving experience of the McLaren 620R is a true adrenaline rush. It combines raw power with precise handling and advanced technology, delivering a pure and exhilarating driving experience that is unmatched in its class.
Conclusion
Overall, the McLaren 620R is an impressive vehicle that is designed for enthusiasts who want a race-inspired car that can still be driven on public roads.
The car's aerodynamic design, powerful engine, and advanced suspension system all come together to create a car that is incredibly fun to drive.
While the car's limited production run and high price point may make it inaccessible to many buyers, those who are lucky enough to get their hands on a 620R are sure to be impressed by its performance, style and excellent handling capabilities.