Welcome to another instalment in our series of cars that start with each letter of the alphabet. This time we are focusing on the initial 'N'.
In Australia, many makes of cars have come and gone over the years. Some of which have left an indelible impression on the minds of car lovers throughout the country. Others, not so much.
Overall, we can come up with around 25 makes of cars that have been available, either directly, or via the imported network, on antipodean shores.
Here are 10 of the most notable of them.
Nissan Navara
The Nissan Navara has been around in Australia since the 1980s.
Much loved, it is known for its toughness, reliability, and versatility, and is a favourite among tradies and adventurers who want a vehicle that can handle both work and play.
Available in a range of configurations, including single cab, dual cab, and king cab models, the Navara is powered by a range of diesel and petrol engines, depending on the model and year. It is available with either manual or automatic transmissions.
One of the key selling points of the Navara is its off-road capability. It features a tough, ladder-style frame and a four-wheel-drive system that allows it to tackle challenging terrain with ease. It also has a high ground clearance and robust suspension system, which help it to navigate rough roads and steep inclines.
In addition to its ruggedness, the Navara is also a practical and versatile vehicle. Boasting a large cargo bed that can accommodate a variety of loads, it can even tow heavy trailers and boats with ease.
Hyundai Nexo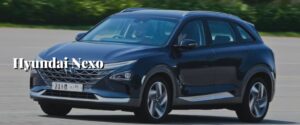 Introduced to the Australian market in 2019, the Hyundai Nexo is a hydrogen fuel cell electric vehicle (FCEV) that was the first of its kind to be sold in Australia.
Powered by an electric motor that runs on hydrogen fuel cells, it is considered to be one of the most advanced zero-emissions vehicles currently available.
Its range is approximately 660 km, which is one of the longest-range FCEVs on the market. It also features a number of advanced technologies, including a remote parking system and a blind-spot view monitor, which help to make driving safer and more convenient.
In addition to its cutting-edge technology, the Nexo is also known for its sleek and modern design. It features a streamlined body and a futuristic interior, with a range of features and amenities to make driving comfortable and enjoyable.
What makes this vehicle popular is its environmental impact. As it runs on hydrogen fuel cells, it produces only water vapour as a byproduct, making it a truly zero-emissions vehicle. It is also more efficient than traditional combustion engine vehicles, requiring less energy to travel the same distance.
Bolwell Nagari
Back in the 1960s and 1970s, the Bolwell Nagari was a sports car that was designed and manufactured by the small Australian car maker, Bolwell.
First introduced in 1969, it was built until 1974 and had a limited production run of only around 100 vehicles. So it also had a sense of allure and exclusivity.
During its lifespan, the Nagari incorporated a range of engines, including an inline-four 2.0-litre, an inline-six 2.6-litre, and a V8 5.0-litre. It was also available with a choice of manual or automatic transmissions.
Known for its sleek and aerodynamic design, which featured a low-slung body and a long hood, the Bolwell Nagari gained a reputation as a capable and exciting sports car in Australia. It was praised for its performance and handling, and it competed in a number of racing events in Australia during its production run.
Today the Nagari's legacy lives on, with a number of restored and modified examples still on the road. In recent years, the company has even revived the Nagari name and introduced a new version of the car, the Bolwell Nagari 300.
Isuzu NLS
The Isuzu NLS is a medium-duty truck that is part of Isuzu's popular N-Series lineup.
Practical and versatile, the vehicle is available in a range of body styles, including cab chassis, tipper, and tray models, which allows buyers to choose the configuration that best suits their needs. It also has a range of features and amenities, such as air conditioning, power windows, and a multimedia system, to make driving more comfortable and convenient.
Powered by a turbocharged 5.2-litre diesel engine, it can be paired with either a six-speed manual or automatic transmission. It also has a maximum gross vehicle mass (GVM) of 8,700 kg, which makes it well-suited for a variety of medium-duty applications.
As well as being highly regarded as a versatile vehicle, the NLS is also known for its durability and reliability. It features a robust and rugged chassis, as well as a range of safety features to help protect the driver and passengers. It also has a reputation for low maintenance costs and high resale value, which is why it is seen as a smart investment by many businesses and fleet operators.
Honda N360
The Honda N360 is a small, two-door car that was originally manufactured by Honda from 1967 to 1970. While it was never officially sold in Australia, some models were imported into the country as grey imports, which gave it a small, cult following.
The N360 was part of the 'N Series' of cars that Honda produced in the late 1960s and early 1970s. These cars were designed to be affordable, fuel-efficient, and easy to drive. It ran off a 360cc, air-cooled, four-stroke engine that produced around 31 horsepower. This may seem like a small amount of power by today's standards, but it was more than enough to propel the lightweight N360 around town at that time.
Despite its small size and modest power output, the N360 was a popular car in Japan and other markets where it was sold. It was praised for its handling, reliability, and fuel efficiency, and it became a favourite among drivers who were looking for a practical, no-frills car.
Dodge Nitro
For five years between 2007 and 2012, the Dodge Nitro was one of the most popular midsize SUVs in Australia. So when it was discontinued it was met with some degree of sadness.
During its heyday, it was known for its distinctive styling, powerful engine, and off-road capability, making it a popular choice among drivers who wanted a vehicle that was both rugged and stylish.
In terms of look, the car featured a distinctive grille and fender flares, which gave it a muscular and aggressive appearance. It also had a spacious and well-appointed interior, with a range of features and amenities to make driving comfortable and enjoyable.
Matched with either a six-speed manual or four-speed automatic transmission, the Nitro was powered by a V6 3.7-litre engine. It also came with rear-wheel drive as standard, while all-wheel drive was available as an option on some models.
One of the key features of this car was its off-road capability. Possessing a ground clearance of 8.1 inches, it was capable of tackling rough terrain and uneven surfaces. It could even tow up to 2,268 kg, so was a great option for those who needed to haul heavy loads.
Despite its popularity, it was discontinued in Australia due to changing consumer preferences and increased competition from other midsize SUVs. However, it remains a beloved vehicle among enthusiasts who developed quite an affinity with it.
Chrysler Neon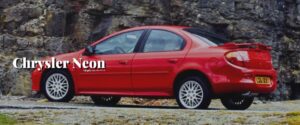 The Chrysler Neon was a compact car that was available down under, between 1996 and 2002. It was a part of Chrysler's global Neon program and was marketed as a modern and stylish option for small car buyers.
The Neon was available in both sedan and coupe body styles and was powered by a range of engines, including a 1.8-litre and a 2.0-litre four-cylinder engine. The engines were mated to either a five-speed manual or a three-speed automatic transmission, which provided smooth and responsive gear changes.
A sporty and attractive vehicle, its interior was also well-appointed, with comfortable seats, a modern dashboard, and several state-of-the-art features such as power windows, air conditioning, and a top-notch sound system.
Its driving experience was pretty good too. Offering agility and nimble handling, as well as a smooth and comfortable ride, it had responsive steering and a well-tuned suspension system that helped to absorb bumps and facilitate a stable and confident transit.
Despite its positive attributes, the Chrysler Neon faced strong competition from other small cars in the Australian market and struggled to establish a foothold. Production of the Neon was eventually discontinued in 2002, with the vehicle being replaced by the more successful PT Cruiser.
Mitsubishi Nimbus
Popular between 1992 and 2003, the Mitsubishi Nimbus was a highly regarded seven-seater people mover.
It was known for its spacious interior, practicality, and reliability, and it was popular with families who needed a vehicle that could transport a large number of passengers and their belongings at significant distances if required.
Despite its large size, it was a smooth and responsive ride, that was easy to manoeuvre in tight spaces thanks to its compact dimensions and light steering.
Equipped with a four-cylinder 2.4-litre engine, the Nimbus was matched with either a four-speed automatic or five-speed manual transmission. Depending on the model and year, it was available as both a front-wheel and all-wheel-drive configuration.
One of its most notable aspects was its large cargo area and flexible seating arrangement, which allowed for multiple configurations to suit different needs. The rear seats could be folded flat to create additional cargo space, and the middle seats could be adjusted to provide extra legroom or create a walk-through area.
Although the Nimbus was ultimately discontinued in Australia, it remains a popular choice on the second-hand market for families who are looking for a reliable and practical people mover.