If you have been following our series of the A to Z of car makes, you may well have been looking forward to the letter Q for a while.
Well, here we are!
When it comes to car manufacturers across the world, let alone in Australia, the letter Q is hugely under-represented.
In fact, there are only three car manufacturers we are aware of that begin with that letter and they are Quant, Qvik and Qvale.
Thankfully, however, when it comes to makes of cars, there have been a few brands on the market over the years.
In this article, we will take a closer look at 6 of them. While some have long since gone by the wayside, others remain as popular now as they have ever been. But all of them have made their mark on the Australian car market in some way, shape or form.
So let's get into it!
Audi Q3
The Audi Q3 is a compact luxury SUV that has been available in Australia since 2012. It is marketed as a versatile and practical vehicle that is well-suited to both urban and off-road driving. The Q3 is available with a selection of petrol and diesel engines, ranging in power from 110 kW to 200 kW. It also comes with both front-wheel and all-wheel drive.
The Q3's interior is spacious and well-designed. It also boasts a number of convenience features including a touchscreen infotainment system, climate control, and Bluetooth connectivity. Additionally, its safety features include automatic emergency braking, lane departure warning, and adaptive cruise control.
Overall, the Audi Q3 has been well-received in Australia, with many buyers appreciating its combination of luxury, versatility, and practicality. While it does face stiff competition from other compact SUVs in its class, the Q3's high-end features and reputation for quality make it a strong contender in the Australian market.
Infiniti Q30
Back in 2016, the Infiniti Q30 was introduced into the Australian car market with high hopes.
Marketed as a premium hatchback, the compact luxury car combined the practicality of a small car with the luxury and refinement of a larger vehicle.
Coming in both an all-wheel and front-wheel drive, it had models that fit both diesel and petrol engines that ranged in power from 90 kW to 155 kW.
It was also very well designed, incorporating leather upholstery, climate control and a touchscreen infotainment system into its interior.
As well as these high-end features, it also counted lane departure warning, blind spot monitoring and automatic emergency braking among other notable features.
Despite being backed by a reputation for quality, the Infiniti Q30 struggled to find a foothold in the Australian market. In 2019, Infiniti's parent company, Nissan, announced that it would be withdrawing the brand from the Australian market, citing low sales and profitability. As a result, the Infiniti Q30 is no longer available in Australia.
Nissan Qashqai
Known for being a practical and versatile vehicle that is well-suited to urban driving, the Nissan Qashqai has been a feature of the Australian car scene since 2014.
A compact crossover SUV, it has achieved a good level of popularity among buyers who appreciate the value-for-money it represents. It is also admired for its elevated safety features, including automatic emergency breaking, blind spot monitoring and land departure warning.
While it faces stiff competition from other compact SUVs in its class, the Qashqai is a good seller for Nissan. It also gives buyers plenty of choice by being available with both diesel and petrol engines, as well as front-wheel and all-wheel drives.
In a move that excited many Aussie fans, the Japanese manufacturer announced in 2021 that they would be introducing an updated version of the Qashqai to the Australian market. Hinting that it would feature upgraded styling, technology, and safety features, which its keen supporters are sure to love.
Maserati Quattroporte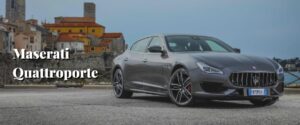 The Maserati Quattroporte is a luxury sports sedan produced by the Italian manufacturer Maserati.
In Australia, the Quattroporte is a popular choice for drivers who seek a combination of performance, luxury, and style. The car's sleek lines and powerful engine make it a head-turner on the road, while its spacious and well-appointed interior provides a comfortable ride for passengers.
In 2021, the Quattroporte was available in two trims in Australia: the GranLusso and GranSport. Both trims come equipped with a 3.0-litre V6 engine that produces 350 horsepower and 500 Nm of torque. The car can accelerate from 0 to 100 km/h in just 5.5 seconds and reach a top speed of 267 km/h.
As you would expect from such a top-of-the-range vehicle, the Quattroporte's advanced safety features include adaptive cruise control, blind spot monitoring, and lane departure warning. Leather seats, a premium sound system and large touchscreen infotainment system only add to its appeal.
Unsurprisingly, given that it costs around $225k, the vehicle is a rare and exclusive sight on Australian roads, with only a small number of units sold each year. For many Aussies it is an aspirational purchase. However, for those who can afford it, it really is a dream car.
Rover Quintet
Between the mid-1980s and early 1990s the Rover Quintet was an affordable compact car that was sold in Australia.
Competing with the likes of the Toyota Corolla and the Mazda 323, it had both manual and automatic transmissions. It was also available with a range of petrol engines that spanned from 60 kW to 78 kW, depending on the model.
Designed with an interior that was functional yet simple, the car had a good reputation among Aussie car enthusiasts for being reliable. However, despite possessing modern features for the time like power windows, air conditioning and a stereo system, it never really sold in large numbers.
Sadly, production of the Quintet ended in 1990, and Rover withdrew from the Australian market soon after. Today, the Rover Quintet is an extremely rare sight on Australian roads, but it remains much loved by fans of classic British cars.
Infiniti QX80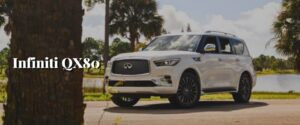 Last but not least on this list is the Infiniti QX80.
A large luxury SUV, it is produced by the Japanese automaker Infiniti and is favoured by those who want a powerful, spacious and well-appointed vehicle for their families or business needs.
The car has been available in Australia since 2015 and can accommodate up to eight passengers. It also has a spacious interior that offers a variety of seating configurations to suit different needs. Additionally, the vehicle has a large cargo capacity, which can comfortably fit suitcases, tools or anything else you need to transport.
With a top speed of 210 km/h, the motor can zip from 0 to 100 km/h in just 7.5 seconds. It also has two trims – the QX80 and QX80 S – which come with a V8 5.6-litre engine.
Some of its most notable features include a premium Bose sound system, leather seats, and a large touchscreen infotainment system that has Apple CarPlay and Android Auto compatibility. The vehicle also counts forward collision warning, land departure warning and blind spot monitoring among its advanced safety features.
Although it comes with a hefty price tag, if you can afford it, the QX80 undoubtedly offers a luxurious and powerful driving experience that is hard to match in its class.