How many car models in Australia can you name that start, or have started, with the letter A?
We can think of more than 70!
Here are 10 of the most notable of them.
Audi A3
Originally the Audi A3 was brought out to be the entry point for people who wanted to own a car made by this luxury German motor brand. However, that role has since been passed onto the likes of the Q2 SUV and the successful A1.
Incorporating the same MQB platform utilised in the VW Golf, it also has several similar powertrain elements to it as well. Where it exceeds it is in the better forms of its tech and a greater standard of in-cabin luxury.
Available as a two-door convertible, a four-door sedan or a five-door hatch, the car is run via a range of diesel and petrol engines. You can even get it as a plug-in hybrid in its A3 e-tron format.
Drive-away prices start from about $47,100 for the A3 35 Tfsi Mhev, while at the higher end of the scale the A3 40 Tfsi Quattro will set you back about $56,500.
Holden Acadia
While many people see the Holden Acadia as a good Aussie brand of car they don't realise it is actually made in Tennessee. In America, it also adorns a GMC badge too.
A spacious, seven-seater SUV, the vehicle is imported into Australia in a right-hand drive version. Essentially replacing the Captiva, it has been impressing car lovers down under since it first came to its shores in 2018.
Available as an all-wheel or front-wheel drive, both versions come with a V6 petrol engine. Overall there are three grades that fall within the Acadia range of Holden cars. These include the Acadia LT (2WD) which starts from around $30,300 and the top-of-the-range Acadia LTZ-V which can be yours for around $63,910.
Despite there being plenty of competition from other seven-seater brands like the Kia Sorento, Nissan Pathfinder and Mazda's CX-9, the Acadia more than holds its own.
Hyundai Accent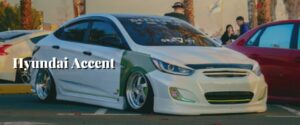 Despite being a popular model, Hyundai dropped the i20 from their Aussie range in 2015. In doing this, the Hyundai Accent automatically became the smallest brand in the Korean manufacturer's portfolio.
Although cheap, it has five seats and doors and comes as either a sedan or hatchback. Along with the company's Aussie-centric tuning suspension program, it is run via a naturally aspirated, 1.4-litre engine that has four cylinders. You can also choose between a manual gearbox that has six speeds or one with a CVT (continuously variable transmission).
Also known as the Hyundai Verna, the car is available in a range of trims. This includes the Accent Sport which comes at a cost of between $15,990 and $21,999 depending on which model you get – manual or auto.

Honda Accord
The Honda Accord has a long and acclaimed legacy that dates back more than 50 years.
First arriving in the late 1970s, the vehicle was a cash cow for the Aussie branch of the company at the turn of the century.
As a result, it developed into two main varieties. One was made in Japan and simply called the Accord Euro. The other was sourced from the USA and referred to as the Accord.
Like the Mazda6 and the Ford Mondeo, the Honda Accord is not as popular in Australia as it once was. Mainly because the current trend for consumers has moved from these types of Sedans to SUVs.
That said, there is still a loyal following who are happy to pay upwards of $57,900 to purchase the Accord VTI-LX. The hybrid model is available for around $61,900.
Nissan Altima
Nissan had high hopes for their Altima model when it launched in Australia in 2014.
However, its presence on the market was short-lived as the company discontinued the four-door, mid-sized sedan in 2017. Sadly its makeup just was not compatible with the general tightening of regulations surrounding emissions that took place at the time.
Truth be told, the car never really took off in any of the major cities of Sydney, Melbourne, Brisbane or Adelaide – totalling just 4500 sales over a period of nearly four years. To rub salt into the wounds, Toyota's Camry enjoyed similar levels of sales in just one month.
At the time it was available the Altima ST was priced at around $21,000. It rose to $41,250 for the Altima Ti-S. Given that the brand was the company's sole mid-sized sedan and also was the fulcrum of the company's Supercars racing endeavours, its axing did come as a surprise to some people.
VW Amarok
In 2010 Volkswagen changed the game when it came to the 4×4 pick-up market.
The first major European brand to launch into this new market, it re-wrote the design book by ensuring the vehicle had a ladder-frame utility which mimicked that featured in rival vehicles like the Ford Ranger and Toyota HiLux.
Made in Argentina, the VW Amarok has since become a major success for the German manufacturer in terms of sales. Consumers have lapped up the single and dual cab versions in both the 4 x 2 and 4 x 4 models.
In 2016 the company launched the most celebrated Amarok in their range. It features a V6 turbo, 3.0-litre, diesel VW Group engine – which is also used in the Porsche Cayenne, a VW Touareg and Audi Q7. This supplements the four-cylinder 2.0-litre, turbo-diesel which comes as standard.
The Amarok range starts with the Core 4Motion TDI420 which costs around $52,888. At the top of the range, the W580X TDI580 4Motion will set you back a hefty $104,990.
Holden Astra
After previously being replaced by the Cruze, the Holden Astra came back to Australia in 2015.
In doing so it maintained the Astra badge's decade-long legacy after it was resurrected in the local market in 2012 and 2013 by the Opel marque.
Just a year later, an updated new version model was introduced in the form of a hatchback that was sourced from Poland. It was quickly followed by a UK-built wagon and Korean-made sedan. At launch, only petrol engines were available, coming with either manual or automatic transmissions.
Current prices for the Astra R are between $19,990 and $23,444.
Mitsubishi ASX
You could be forgiven for thinking the ASX was Mitsubishi's first dabble in the relatively small realm of city-based SUVs.
However, it wasn't. The often-forgotten Pajero iO which operated as a clunky run-around between the late 1990s to around 2005 got that honour.
When the ASX was released in 2010 it was a bit of a slow burner. Inspired by the small car platform of the CJ Lancer, it started to gain traction on the back of an impressive aesthetic and interior space, as well as competitive levels of equipment and attractive pricing.
Subsequently, the small SUV is quite popular now. Initially, the turbo-diesel and all-wheel drive models were brought out. However, after a number of design tweaks, the range settled upon a 2.0-litre petrol standard option. In 2019 a bigger 2.4-litre petrol model was also brought out. Both of these models operate as front-wheelers.
Also known as the Mitsubishi Outlander Sport, prices for the 2WD ASX GS start at around $23,990. At the top of the pile, the 2WD ASX Exceed can be snapped up for $34,740.
Toyota Aurion
Somewhat unfairly, the Toyota Aurion sedan has often been disparaged as nothing more than a flashier version of the Camry. However, supporters are firm in their belief that it deserves more praise.
Production of this large six-cylinder vehicle started locally in 2007 and has sold over 100,000 units. It included limited releases of the Aurion TRD which was seen as a direct competitor to Mitsubishi, Holden and Ford.
When Australian manufacturing ended in October 2017 it signalled an end to the reign of the Aurion. Toyota soon began importing a couple of other versions of the Camry – one more deluxe and the other a little sportier. Both came from Japan and have V6 engines and four cylinders.
Lamborghini Aventador
Launched to great fanfare in 2012, the Lamborghini Aventador is the dream car for many people.
Featuring an all-wheel drive, scissor doors, carbon-fibre chassis and a massive V12 engine 6.5-litre that comes with 690Nm and 544kW it ticks a lot of boxes. Its carbon-fibre composite brakes are a massive plus too.
This imperious, mid-engine, two-seat coupe was remodelled as the Aventador S in 2017 to impressive effect. It can reach speeds of 0 to 100 km/h in less than three seconds, as well as 200 km/h in under nine and 300 km/h in just over 24 seconds. All the while driving effortlessly. Its maximum speed is 350km/h.
As befitting a luxury and exclusive vehicle they do not come cheap. You won't get much change out of $790,000. However, you will get the envious glances of most other people.
A fun fact you can impress your friends with is that although Lamborghini was founded in 1963 in Italy, it is now owned by the VW group.