Over the years, Australia has developed a rich automotive legacy, as a variety of iconic makes and models have left a lasting impression on the nation's car culture.
As part of our overall series of car makes that start with each letter of the alphabet, it's time to turn our attention to the initial 'M'.
From classic cars to modern, sporty vehicles, 'M' car brands have played a significant role in shaping Australia's motoring landscape.
In this article, we'll explore the history, features, and highlights of various makes across several different manufacturers. We'll also evaluate why they stand out, or indeed stood out, in the highly competitive Australian car market.
So if you're a car enthusiast or just curious about the iconic M' car brands that have been available in Australia, sit back and enjoy the ride!
BMW M135i
The BMW M135i is a high-performance hatchback that was sold in Australia from 2013 to 2019. It was a part of the BMW 1 Series range and was the top-of-the-line model.
It was praised for its powerful engine, agile handling, and luxurious interior, making it a popular choice for car enthusiasts who wanted a premium hatchback.
Under the hood, the M135i was equipped with a turbocharged 3.0-litre inline-six engine that was paired with an eight-speed automatic transmission. This enabled it to accelerate from 0 – 100 km/h in just 4.9 seconds.
The car also had an advanced suspension system and a limited-slip differential, which provided excellent handling and stability.
Overall, the BMW M135i was a highly regarded vehicle in Australia and was known for its impressive performance and deluxe features. Although it is no longer sold as new down under, it remains a popular choice in the used car market for those looking for a high-performance hatchback with a touch of luxury.
Infiniti M30d
Between 2012 and 2013 the Infiniti M30d was a midsize luxury sedan that was sold in Australia.
Part of the Infiniti M series, it was available in only one trim level. However, the M30d was praised for its refined ride, luxurious interior, and powerful diesel engine. All of which combined to make it a popular choice among luxury car buyers in Australia.
At the time it was well-regarded and provided a viable alternative to more established brands like BMW and Mercedes-Benz.
Matched with a seven-speed automatic transmission, the car featured a diesel V6 3.0-litre engine. It
had the capability of going from 0 to 100 km/h in a tick under 7 seconds and was also known for its sleek and modern design. This featured an aerodynamic body, sporty wheels, and a premium leather interior.
Unfortunately, the Infiniti brand was discontinued in Australia in 2020, so the M30d is no longer available as a new vehicle.
Porsche Macan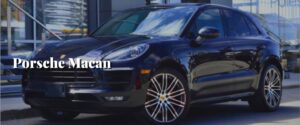 Since 2014, the Porsche Macan has been one of the popular models in the company's Australian lineup.
Known for its combination of performance, luxury, and practicality, this luxury compact SUV comes with a premium price tag. However, if you believe that you get what you pay for then you should see the value in paying the asking price.
The Macan boasts a sporty and athletic design, with sleek lines, cool wheels, and an aerodynamic body. It also features Porsche's advanced all-wheel drive system, which provides excellent handling and stability on all types of road surfaces.
Offered with a range of powerful engines, including a four-cylinder 2.0-litre turbocharged, a V6 turbocharged 3.0-litre and a twin-turbocharged V6 2.9-litre, the top of the line version can zip to hundred from zero in just 4.3 seconds.
Inside, the Macan has a luxurious and high-tech interior, with a large touchscreen display, premium leather seats, and a range of advanced features such as a panoramic sunroof, a Bose sound system, and adaptive cruise control.
Kia Magentis
Also known as the Kia Optima, the Kia Magentis was a solid midsize sedan that offered good value for money, practicality, and reliability.
Although it is no longer available in Australia, it was a decent seller between 2001 to 2015 and was a popular choice for families and commuters.
Featuring a spacious interior, one of the Magentis' main selling points was that it had plenty of legroom and headroom for both front and rear passengers. Its trunk was also large enough to accommodate plenty of luggage or groceries.
Over the years, the Magentis came with several engine options, including four-cylinder 2.0-litre and 2.4-litre options as well as a V6 2.7-litre type. Some later models even had a hybrid engine option, which was highly fuel-efficient and helped to reduce running costs.
Mitsubishi Magna
During the 1990s and early 2000s, the Mitsubishi Magna was one of the most popular cars in the country.
Available in both sedan and wagon body styles, it was seen as representing good value for money and came with several features including air conditioning, power windows and locks, a CD player, and alloy wheels. Later models also had advanced safety features like anti-lock brakes, electronic stability control, and traction control.
Initially, the Magna was offered with a four-cylinder 2.6-litre engine and four-speed automatic transmission. Although, as newer makes came out both a 3.0-litre and 3.5-litre V6 model was available as well as a five-speed manual transmission.
MG Magnette
Ask your grandparents about the MG Magnette and the chances are they'll remember it with fondness and a smile.
A small sports sedan that was sold in Australia in the 1950s and 1960s, the car was known for its sporty handling and classic British styling, making it a popular choice among car enthusiasts and racing fans.
The MG Magnette was actually a regular participant in motorsport events such as the Australian Grand Prix and the Bathurst 1000. It was known for its excellent handling and balance, which made it a competitive choice in the racing scene.
In terms of design, the car first came with a four-cylinder, 1.5-litre engine. However, later models saw it upgraded to 1.6-litres and 1.8-litres, which provided more power and a faster capacity acceleration.
The car also had a four-speed manual transmission and rear-wheel drive, which contributed to its sporty performance.
In addition, it had a simple yet stylish interior that featured leather seats, a wooden steering wheel, and a classic instrument cluster. Later models came with options like an AM radio, a heater, and a sunroof.
Today, the MG Magnette is considered a classic car, and it is highly sought after by collectors and enthusiasts. Many of them show it more love than they do their partners!
Morris Major
The Morris Major is another car that older Australians should have nice memories of.
Sold in Australia from the late 1950s to the early 1960s, this vehicle was part of the Morris Oxford family of cars, which were manufactured in the UK and sold around the world.
It was designed as a midsize sedan, and it was known for being dependable, practical and within the price range of many people.
Engine options included 1.5-litre, 1.6-litre and 1.8-litre four-cylinder types, while the car also had rear-wheel drive and a four-speed manual transmission.
Some of its more notable interior features included cloth seats, a basic instrument cluster, and a heater. Though other models had optional features like radio and whitewall tires. However, as the emphasis was on practicality and affordability rather than luxury or style, it remained understated throughout its lifespan.
Holden Malibu
Forming part of Holden's strategy to expand its product range beyond traditional large cars and SUVs, the Holden Malibu was a midsize sedan that was sold in Australia from 2013 to 2019. It was aimed squarely at buyers who wanted a comfortable, spacious, and well-equipped family sedan.
Despite its relatively short time on the Australian market, the Holden Malibu was generally well-received by buyers and automotive critics. Indeed it was praised for its comfortable ride and solid performance.
It also has six-speed automatic transmission, front-wheel drive and a range of engine options. This encompassed a four-cylinder 2.4-litre, a turbocharged 2.0-litre four-cylinder and a four-cylinder 2.5-litre option.
The car was also known for the quality of its touch-screen infotainment system, and a rearview camera.
However, as the Holden Malibu faced strong competition from other midsize sedans on the market, it ultimately struggled to gain a foothold in a crowded and competitive segment. So much so that in 2019, Holden announced that it would discontinue the Malibu as part of its decision to exit the Australian market.
Mercedes-Benz Maybach
The Mercedes-Benz Maybach is a luxurious ultra-premium car that is sold in Australia as a standalone brand under the Mercedes-Maybach name. It is designed for the most discerning buyers who demand the highest level of luxury, refinement, and exclusivity.
The Mercedes-Maybach brand offers two models in Australia: the Mercedes-Maybach S 560 and the Mercedes-Maybach S 650. Both models are based on the Mercedes-Benz S-Class sedan, but they have been extensively modified to offer a level of luxury and comfort that goes beyond anything that is available in a standard S-Class.
The Mercedes-Maybach S 560 is powered by a V8 4.0-litre engine. It also has a host of standard features, including air suspension, adaptive headlights, a panoramic sunroof, and a Burmester sound system.
The Mercedes-Maybach S 650 takes things even further, with a V12 6.0-litre engine and its interior is even more opulent. Within it you'll find heated and cooled rear seats, a refrigerated compartment, and a Magic Sky Control panoramic roof that can be darkened or cleared at the touch of a button.
Both models are designed to offer the ultimate in luxury and comfort, with features such as air purifiers, massage seats, and advanced infotainment systems being standard. They are also highly customizable, with a range of additional options for exterior and interior finishes, wheels, and accessories which will ensure you can really make this car your own.
Renault Megane
The Renault Megane is a compact hatchback that has been a regular on the Australian car market since 2001.
Highly regarded for its distinctive styling, agile handling, and strong performance, it has developed a loyal following among buyers who value its unique blend of style and performance.
Available in several different models, including the Megane Hatch, the Megane Wagon, and the Megane R.S. (Renault Sport), all of them come with a range of standard features, such as touchscreen infotainment systems and rearview cameras. They also have a host of advanced safety features like lane departure warning, forward collision warning, and autonomous emergency braking.
In terms of design, the Renault Megane is known for its bold and modern styling, with sharp lines and aggressive angles that set it apart from other compact hatchbacks on the market.
Both the Hatch and Wagon models offer a 1.2-litre and 1.6-litre turbocharged engine, as well as a diesel 1.5-litre engine. The Megane R.S. by contrast is a high-performance model that runs on a turbocharged 1.8-litre engine.